In one of the more surprising decisions over the last few NFL seasons, the Vikings and coach Brad Childress decided to bench Tarvaris Jackson in exchange for the journeyman Gus Frerotte. While many Skins fans remember Gus for the good old days of "In Gus We Trust" and the ill-fated headbutt of a wall, he has since toured the league as a very serviceable backup. The question now is whether he can improve the Vikings.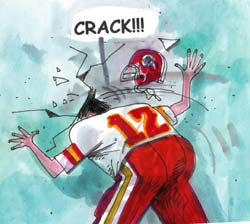 The Vikings offense clearly has a solid running game with Adrian Peterson and Chester Taylor, and this would typically open up the passing game. Frerotte's experience could open the playbook, but does he have anyone to throw to? I need to see it before I believe it. Bernard Berrian had one good season in Chicago, but has never really been a #1 WR for a good NFL team. Sidney Rice shows promise, and Wade and others could be serviceable, but these guys are by no means established stars. Furthermore, Gus is not particularly mobile, and any pressure will be magnified. Offensive lines which are good at run-blocking are not necessarily great pass blockers, though the blocking does not appear to have been the problem so far. Gus has played well as a backup, but I think it will be really tough for him to take over the first team all of a sudden.


The Vikings finally figured out what everyone's known for years. Tarvaris looks confused and overwhelmed.
Further, the Vikings are already two games back on a Packers team that was pretty good last year. Upcoming games against Carolina (2-0), Tennessee (2-0), and New Orleans (1-1) will not be a cakewalk, likely leaving the Vikings 2-3 or 1-4 even if Gus plays well. Plus, Gus is 37 and could be injury-prone. If he gets hurt, Jackson is thrown back in there with damaged confidence and added pressure. The Vikings' schedule is no joke, playing the AFC South this year. Their extra two games are at Arizona and NYG, both potential losses. I predict an 8-8 record and missing the playoffs narrowly again this year, leading to the end of the Brad Childress era and the departure of Tarvaris as well.