My boss wanted me to point out that West Virginia has now won five consecutive games over SEC opponents (Auburn 10-23-08, Miss. St. 10-20-07, @Miss. St. 10-07-06, Georgia 01-02-06 Sugar Bowl, and Ole Miss 2000 Music City Bowl).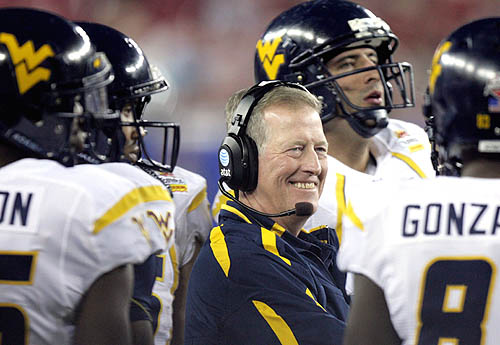 This must be last year's Fiesta Bowl, because Stewart is smiling and the guys are wearing road whites.

Of course, they've also lost their last two road games to East Carolina and Colorado, meaning they've lost their last games against Conference USA and the Big XII. They've also lost two straight to South Florida, who the Mountaineers host to close out the season on December 6, 2008. Could be worse - look at RichRod's streak against the MAC and Mountain West.

I guess we'll figure out from this week's game at Cincinnati whether the Mountaineers are just a pretty good home team.