I will admit that I'm not the biggest college football fan in the country. I'll watch what's on and I get sucked into a good game here and there, but I definitely couldn't recite the Top 25 or name all the Pac-10's starting QBs. That being said, Texas looks special this year. I've watched the past two games, and I've never seen such a transformation as Colt McCoy has had in the middle of their win over Oklahoma.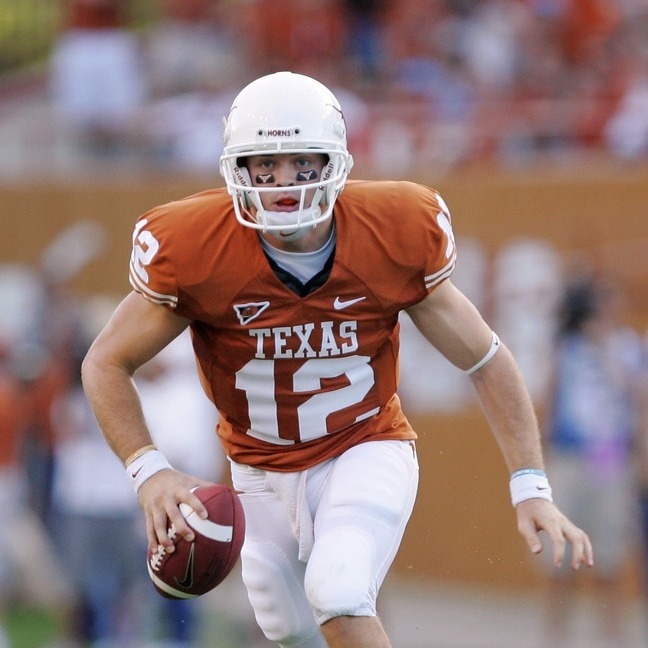 The most exciting thing about the past two wins, over Oklahoma and Missouri, is that I keep seeing new people making plays. It reminds me of the dominant USC teams where every game seemed to feature a new star. It could be Reggie Bush, LenDale White, Steve Smith, Dwayne Jarrett, Matt Leinart, Carson Palmer, or any number of defensive players, but someone was going to ensure a win every time they took the field. I see that this year with Texas, and I think Mack Brown has the tools to avoid any characteristic Pete Carroll turd games.
Sidenote: Why isn't Mack Brown considered the best coach in the history of college football? He managed Vince Young, Cedric Benson, Roy Williams and Ricky Williams with NO PROBLEMS. We need guys like Mack Brown to run for public office. That's working miracles.
Texas has a brutal schedule to finish the season, of course. As much as everyone defaults to loving the SEC, mostly because more people live in the Southeast than the Plains and those people love football, the Big XII is consistently the most trying conference in the land. People forget that a trip from Austin to Manhattan or Missouri or Iowa State is a lot more onerous than jaunting from Baton Rouge to Georgia. Texas still has Oklahoma State, at Texas Tech and at Kansas on the schedule, along with a season-ender Thanksgiving night on ESPN against A&M. LSU is currently the highest ranked one loss team in the BCS, but I think you could give Texas a loss to any of those four teams and still keep them ahead of any others.
A lot can happen between now and the BCS Title Game, but Texas looks like the team of destiny at this point. I'm really enjoying seeing a truly great college football team materialize each week.