After five weeks of the 2008 NFL season, we thought we knew something. Week 6 showed us that we were wrong about lots of those things. You could call today "Debunking Day." We here at ECB will run down the NFL myths that were debunked today.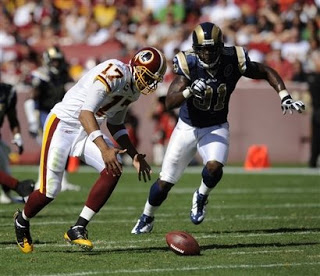 Myth #1: The Colts aren't the same team without Bob Sanders
The Colts were underwhelming in their first 4 games, and lots of the blame was placed on Bob Sanders' injury. The Colts came alive against Baltimore today, looking like the Super Bowl contender they've been in recent years.

Myth #2: The NFC East is the league's toughest division
Last week there was talk that three of the top 5 or 6 teams in the NFL were in the NFC East. Today two of them lost to bad teams in the Rams and the Cardinals. The Cowboys and Redskins are still likely to make the playoffs, but both the NFC and AFC South might be tougher divisions.

Myth #3: Joe Flacco is a prodigy who will lead the Ravens deep in the playoffs
It was tough to be down on the Ravens after close losses to the Steelers and Titans. Joe Flacco looked decent in both games, and even with a tough schedule the Ravens looked poised for a run at a wild card slot. With three interceptions in a 31-3 humiliation in Indianapolis, the Ravens look to be at least a year away.

Myth #4: The Redskins are for real
Sure, they're 4-2 with one of the easiest schedules in the NFL, but the Redskins are not one of the best teams in the country. They could still make the playoffs, but the Rams exposed the Washington offense. St. Louis had given up at least 30 points in 7 straight games, but the Skins could only manage 7 points in the first 3 quarters. Their "ownership" of the fourth quarter wasn't even enough to best the lackluster Rams.

Myth #5: The "Wildcat" formation is a gimmick
Sure it was against the Texans, but the Dolphins may be on to something.

Myth #6: Dan Orlovsky is a big-time NFL quarterback
What, no one believed that myth?
[Update: Tirico Suave has the
video
]
Myth #7: Tom Cable will turn around the Raiders' season
Guess not.