I am starting to think the thoroughbred racing industry is breathing one big retrospective sigh of relief that Big Brown failed to capture the Triple Crown this spring. Rick Dutrow has now been hit with a 15-day suspension in Kentucky for providing one of his horses, Salute the Count (not a euphemism for masturbation, unfortunately), with a dose of Clenbuterol too close to race day. The horse raced in the Aegon Turf Sprint on May 2 at Churchill Downs (the day before the Derby) and tested positive for twice the allowable level.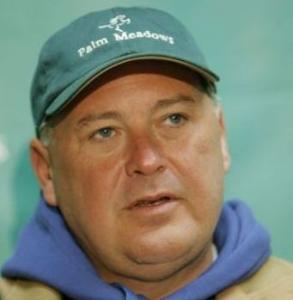 blahbbblblahahlahlahblahblah This is not a mug shot.

Clenbuterol is closely related to Albuterol, a standard and legal drug given to horses as a bronchodilator, to increase lung capacity and function. Clenbuterol, unlike Albuterol, has steroid properties as well. It is permitted, but a dose may not be administered within a certain window before the horse races.

Dutrow, of course, is claiming distraction.

Allegations of cheating have followed Dutrow more than any other "elite" horseman. The ESPN article linked above lists numerous supported allegations of cheating, all involving horse drugging. It would be easy to believe that he failed to closely monitor his horse-drugging regiment with Big Brown running the next day, but not given Dutrow's history.

His personal history is checkered as well, with this article from the New York Daily News revealing his sordid drug and gambling past. While he seems to have beaten his addictions, one wonders what tricks he learned during his more desperate gambling runs.