This is the first in what will hopefully become a weekly feature on ECB.

Every weekend of the year there is something interesting happening in the sports world. We'll let you know what you need to do to spend the entire weekend watching sports. Think Deadspin's "What to Watch Tonight" but with previews of the events.

This weekend is packed with great things to watch, so fire up the grill, grab a cold beer and enjoy the show.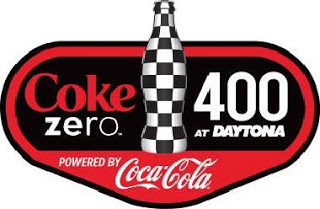 NASCAR
Nationwide Series Winn-Dixie 250 (Friday 7PM, ESPN2)
Sprint Cup Series Coke Zero 400 (Saturday 6:30PM, TNT)

NASCAR goes to Daytona this weekend, and that always makes things a little more exciting.

Ryan Newman's season hasn't gone quite the way he expected after winning the Daytona 500, but that won't stop him from trying to complete the Daytona Double in what may be his last race there for Penske.
Kurt Busch will try to follow up on his 2nd place finish in the Daytona 500 and his win last week at New Hampshire.
No matter what Kurt does, he'll still be the second fiddle Busch brother this season as Kyle tries to keep his unbelievable momentum going. Lil' Busch has 5 wins already this year and leads the championship.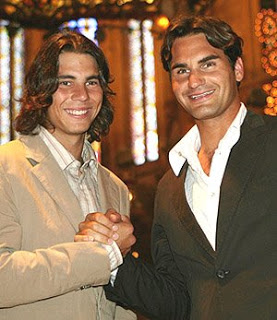 Wimbledon
Mens Semifinals (Friday 7AM, ESPN2)
Ladies Final (Saturday 9AM, NBC)
Mens Final (Sunday 9AM, NBC)
The Ladies final could be Williams vs. Williams and the Mens final could be another Federer-Nadal matchup. That's about as good as you're going to get with the current state of tennis.
Marat Safin has a chance (albeit a small one) to upset Federer and make the final. That would be a pretty amazing accomplishment since he hasn't made the finals in

any

event since October 2006 and hasn't won an event since he won the Aussie Open in 2005. His kid sister made the finals in the French Open, so that must have been the motivation he needed to get back on his game.
Even though the past few years have fallen into the "Nadal wins the French, Federer wins Wimbledon" routine, recall that last year's Wimbledon final was a

very

close match. I wouldn't count out Nadal if he makes the final against Federer.

Tour de France
Stage 1 (Saturday 8:30AM, Versus)
Stage 2 (Sunday 8:30AM, Versus)

The first day of the Tour de France is normally a meaningless prologue stage (essentially a time trial that no one cares about). Thankfully that has been changed this year, and we start out with a real stage.
Both stages are fairly flat, so we'll see breakaways, chases, and sprint finishes. Nothing this weekend will have much of an effect in the overall race for the yellow jersey.
See ECB's Tour de France Preview for more.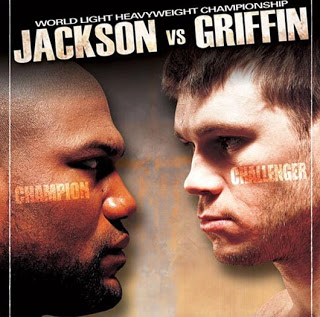 UFC
UFC 86 (Saturday 10PM, PPV)

The two coaches from the just-completed season of The Ultimate Fighter face off for the Light Heavyweight Championship. Rampage Jackson and Forrest Griffin also happen to be two of the most popular fighters around.
I think you have to consider Rampage the favorite in this one, just based on his experience in PRIDE. (I just checked the odds, and sure enough, Rampage is -260. I don't think he should be that heavy of a favorite, but he'll probably win).
The undercard is stacked with former competitors from The Ultimate Fighter. If you've watched the reality show at all, you'll recognize most of the undercard fights.
Formula 1
British Grand Prix Qualifying (Saturday 8AM, SPEED)
British Grand Prix (Sunday 1PM, FOX)

The race for the Drivers Championship is as close this year as it's ever been. The Ferraris look great, but McLaren is still nipping at their heels and BMW looks better every race.
This is Lewis Hamilton's home Grand Prix and the crowd will be quite enthusiastic in its support for him.
FOX will show the race in HD, which is really, really cool.

Baseball
Cubs at Cardinals (Sunday 3PM, TBS)
Teams TBD (Saturday 3:30PM, FOX)
Chicago and St. Louis are locked in a battle for the top of the NL Central, and this game could conceivably vault the Cardinals into first place (if they sweep the series).
The Fox game will probably be Yankees-Red Sox, which will annoy half of the country. But really, what's more American than Baseball on Independence Day weekend?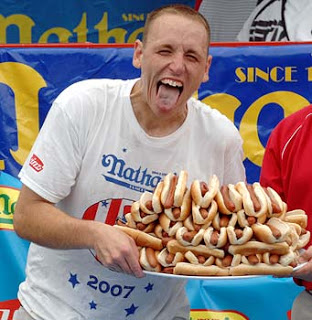 Hot Dog Eating Contest
Nathan's Hot Dog Eating Contest (Friday 12PM, ESPN
)
Personally, I have no interest whatsoever in this event, but some people clearly do.
I guess the big question this year is whether or not Joey Chestnut was a one-hit-wonder or whether he can defend his crown (er, mustard yellow belt).
Takeru Kobayashi will try to claim his 7th belt and avenge his loss to Chestnut last year.
The Over/Under on hot dogs eaten is 68.5 (-250) which would be a new world record. The contest has been shortened to 10 minutes (from 12 minutes) so the under is a safe bet here.