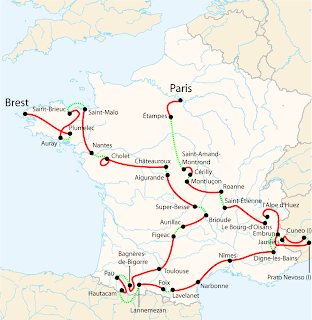 The 2008 Tour de France starts on Saturday, and this year promises to have lots of drama. Can Floyd Landis avenge his 2006 loss due to doping allegations? Can Alberto Contador defend his title? Will Michael Rasmussen prove that he's not just a climber and can actually win the overall classification? Can Alexander Vinokourov finally make the jump that so many have been predicting for him? Can Johan Bruyneel duplicate his success with US Postal and Discovery at his new team, Astana? Will Levi Leipheimer be the next great American cyclist? Can Tom Boonen defend his Green Jersey?

Unfortunately, we already know that the answer to all of those questions is no. None of those riders will be competing in the tour this year. Some are banned for doping and some are on the Astana team, which wasn't invited to this year's Tour due to doping allegations against the team.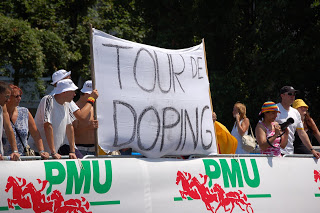 We're ten years down the road from the Festina scandal and two years have passed since Operation Puerto, but no one still seems to have any good ideas for how to deal with doping in cycling. At this point, many of the biggest names in the sport have been left out of its biggest event, but even so the winner is often thought to be the best rider who didn't get caught. Something needs to change, but I'm not sure what.

Even with all its problems, the Tour de France is still one of the greatest annual events in sports. It's an unimaginable test of mental and physical endurance, with the riders pushing themselves to exhaustion almost every day for 3 weeks.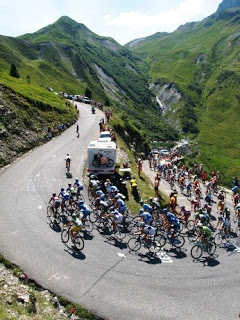 Every year I try to convince people that the Tour de France is actually great television. Pretty much no one listens, but that doesn't stop me from trying. The coverage on VS. is great, featuring an entertaining announcing crew of Phil Liggett, Paul Sherwen, Bob Roll, and Craig Hummer. I was disappointed to see that Al Trautwig won't be covering the Tour this year, presumably because he'll do the Olympics for ABC.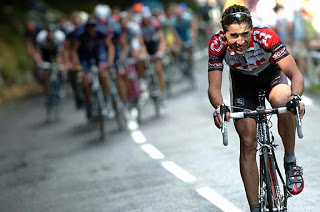 So who's going to win? With so many favorites either retired or banned, this shapes up to be the most wide open Tour in recent memory. My money's on Spain's Carlos Sastre. He has a strong team behind him (CSC), and even though he's fallen short in recent Tours, this should be his best chance to win.

Stay tuned for more updates as the Tour de France progresses. I probably won't do daily updates or anything, but I'm going to try for more comprehensive coverage than last year.

Photo Credit: NielsB, Wladyslaw Sojka