After waking up before dawn, riding the most crowded MARTA train I've ever seen, and waiting over an hour, we finally started the 2008 Peachtree Road Race from Time Group 5, 40 minutes after the elite runners. The course was packed the entire way, though what else should I have expected? It's the largest 10K in the world at 55,000 runners. The term "runners" should be used loosely. I would say at least 1/3 of the participants walked over 2 miles. But that's fine, it's not really a race. It's more of a community event. There was music, there were fire hydrants spraying water, churches distributing food... It was cool and fun, and best of all there's a T-shirt!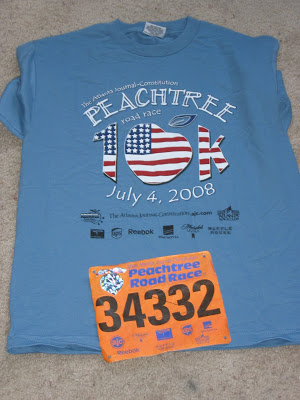 A couple recommendations for first-time runners in the future:

1. Don't plan on running a good time from the back, there's just no space. We walked almost the first half mile because there wasn't room to actually run. If you want to run a good time, you have to submit a time and get into one of the groups in the front.

2. Even if the forecast says 70, it's still really warm and humid. It wasn't too bad, but be prepared.

3. Don't try to get on the MARTA too close to the race. The train was almost full by downtown going north, and it was packed long before we got to the last station, where the entire platform was three-deep in runners.

4. Don't take it too seriously and just have fun!