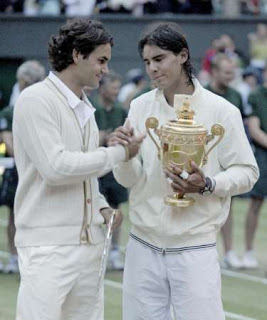 I'm not sure, but I do know it was the best match I've ever seen.

Roger Federer and Rafael Nadal were both playing at the top of their games, and they turned in one of the great performances of the year. So often these "epic" matches don't live up to the hype and the media-manufactured rivalries are duds. This match was one of the rare times that reality exceeds expectations.

Initially, it looked like Rafa would shock the world by walking over Federer after taking the first two sets. Federer fought back through two entire on-serve sets and took both tiebreakers to even the match. Both men stayed on serve through the first 14 games of the fifth set until Nadal finally broke Federer as night started to fall on London. Two rain delays had extended the match until the very last sliver of daylight (the All England Club doesn't have lighted courts). Thankfully, the match didn't have to be suspended until Monday, which would have broken the unbelievable tension on the court and in the stands.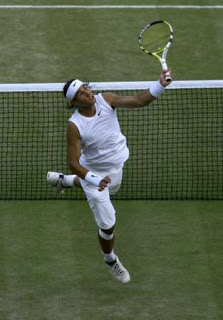 Federer didn't choke this match away. He played a great match and fought back from the brink of elimination several times to push the match into extra games. A lesser competitor (*cough* Andy Roddick) would have packed it in down two sets to zero, but Federer never let up. Nadal could have let himself get overwhelmed by Federer's momentum going into the fifth set, but he too stayed cool and continued playing his best game. Both players hit more amazing shots than I can count. Nadal got to balls that I thought were unhittable and Federer made Nadal work for every point.

Many commentators have bemoaned the state of men's tennis lately, and I had tended to agree with them. The arguments went something like this: Federer's too boring. Nadal's too foreign. When is that Andy Roddick guy finally going to get good?

I think after this match, we can safely say that men's tennis is just fine, even if we won't see the same level of interest as if one of the two rivals was an American. Like Russell said in his preview, can you imagine if Tiger and Phil were in the final pairing for the Masters and the British Open 3 years in a row? We're witnessing a great rivalry and it's time we started appreciating it.

I should also mention that Russell's foolish attempt to predict the final score of a tennis match was astonishingly close. He predicted Nadal winning 6-4, 3-6, 7-6, 6-7, 10-8. Nadal ended up winning 6-4, 6-4, 6-7, 6-7, 9-7.