So I've always considered myself a truly patriotic guy. Not the kind of guy to ride in the back of an antique convertible with the American Legion guys throwing candy out to little kids at Fourth of July parades. But patriotic enough to root like hell for the Americans at the Olympics and get some dust in my eye everytime I see that flag raised high and our anthem played at a medal ceremony.


That said, when my IRS "Stimulus Check" arrived in the mail a few weeks ago, there was some discussion as to how to spend it. Somehow my wife and I had stumbled into that class of people that got a $1,200 rebate check. I think the IRS maybe just threw darts at the wall. I'll leave it to our resident tax law expert, J-Red to explain.
Many of you know we just moved into a new townhouse and there is a lot we could do with that $1,200. Namely, place it in our savings account to rebuild the account from our down payment. But my wife and I, both of us being patriotic, decided that this just wouldn't do. No. We had to spend our money frivolously, on consumer goods, to bolster the economy. So, in the most ardent show of patriotism since John McCain survived years in the Hanoi Hilton without giving up information on his colleagues, we went to our local Best Buy, and bolstered the Gaithersburg, Maryland economy by purchasing this: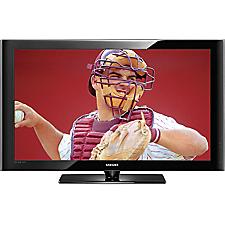 That's right. A Samsung 46" 1080p LCD flatscreen HD-TV. Hell, we were so patriotic, we even took advantage of a July 4th sale. We were even more patriotic by helping to support the Japanese economy by purchasing a Samsung product, because we want to support our continued rebuilding efforts of the post-World War II Japanese economy. Can't let them fall prey to North Korea.
spacer
So, gang, last night I took in part of my first major league baseball game in full and beautiful HD. I also took part in my first ever Baseball Tonight viewing. Two words... HOLY. CRAP. I mean, watching the O's-Red Sox game (the Nats weren't on HD... maybe this has something to do with that pathetic 9,000 figure), I could see the beer belly and pasty skin of every Masshole crammed into the seats in Fenway. From the behind the pitcher's mound angle, you can spot which player's jersey the fan is sporting, and practically what brand of beer they are drinking. More importantly, you can see the move on the pitch, the velocity on the pitch, and the mechanics of the swing. On wide-angle shots of the ballpark, you literally feel like you're there. All I can say is I cannot wait to watch this TV during football season.
spacer
Baseball Tonight was even more amazing, as I read somewhere that ESPN somehow has higher HD-quality broadcasts than standard network HD broadcasts. I'm not a technocrat enough to understand what I'm reading when I read that, but I can tell you that once you go HD, it's really, really difficult to go back.
spacer
Now, I really can't wait for the Olympics next month, set to be broadcast all in HD. Now I'll be able to see, among other things, the testicles that have developed on all the Romanian female weightlifters. I would cite to outdoor events, but I don't think my HD broadcast will be able to overcome the choking smog to actually see the events.
spacer
So a public patriotic service announcement from ECB - use your stimulus check to buy an HD TV. You'll never watch sports the same way again. And don't buy American.