And so it begins... We all had a sick feeling in the pits of our stomachs that once again this year's Tour would produce positive drug tests, and today that has been confirmed. This post is labeled scandal #1 because just like cockroaches, when you find one, there are lots more you can't see. And recent history indicates that we will see more than one positive test over the next couple weeks.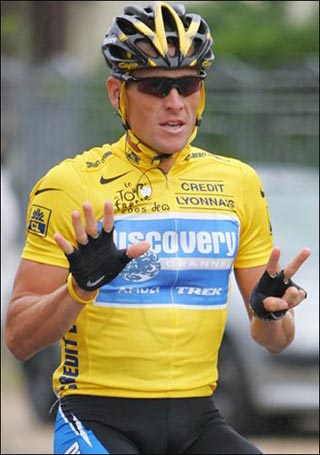 As yet another member of USPS/Discovery during Lance's reign has been caught doping, one has to wonder whether this is part of a continuing French conspiracy to discredit Lance's legacy. Or maybe Lance was doping along with his entire team, and they were just good enough not to get caught. Or maybe his team was doping, but he's actually innocent as he has so vehemently and vigorously claimed. Too bad the same defense didn't work out as well for Floyd.

While this may be unfortunate for team Liquigas, Manuel Beltran's positive test is unlikely to significantly affect the outcome of this year's Tour. It's just another black mark on cycling's filthy doping record.