Really, Washington, you don't have to honor the Expos' legacy this much...

According to the SportsBusiness Journal (as reported by DCRTV.com), television ratings for the Nats on MASN and MASN2 are down 43.5% since last year, drawing only a 0.39 share of television viewing (despite now being available on all cable providers). This is the lowest in Major League Baseball ("by a lot" according to the Post's Dan Steinberg), and means that an average of only 9,000 households are watching the Nats.

Steinberg puts the problem in perspective. Boston, St. Louis and Minnesota enjoy 9.75, 8.04 and 6.92 shares respectively. The worst ratings, other than the Nats, are in L.A. (understandably) with the Angels at 1.24 and the Dodgers at 1.57 and in Dallas (1.49). The "average household" numbers are more staggering, with the Nats at 9,000 looking way up at small market teams like the Royals (28,000), Orioles (33,000) and Pirates (34,000).
Steinberg is also privy to the Post's web numbers on Nats-based traffic, but he cannot divulge them. He only says that the traffic is "very disappointing".
That's not a good sign that the Nats are building a fan base. To make matters worse, attendance figures are still middling, defusing the excuse that people would rather watch the game in person than on television. As of tonight the Nats are averaging 29,754 tickets sold per game in the inaugural season at Nationals Park (naming rights dropping in price daily!), corresponding to 72.5% of stated capacity.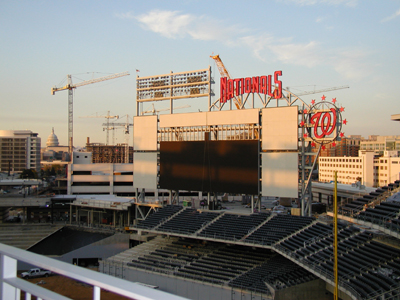 There are two arguments I've made on this blog that have been ridiculed. The first arose when the Orioles were beaten by the Texas Rangers by the score of 30-3 last August. I argued that at least the humiliating defeat made the Orioles relevant, and that the Nats couldn't buy a headline. Watch SportsCenter and tell me how many Nats highlights you see, and you'll start to see it my way. The second argument was that the Nats wouldn't last a decade in Washington. I'm still sticking by that one.
Overall, I think Steinberg sums it up best: "Why do we have a baseball team?" Read the following to see our thoughts on the same question.