Former head coach Rich Rodriguez has settled his dispute with West Virginia University over the $4M buyout clause in his contract. West Virginia made great concessions, allowing Rich Rodriguez to pay $1.5M over three years, rather than RIGHT F*!@ING NOW like the contract required, with Michigan kicking in the remaining $2.5M. A great victory indeed for LessRichRod and the Maize and Blue.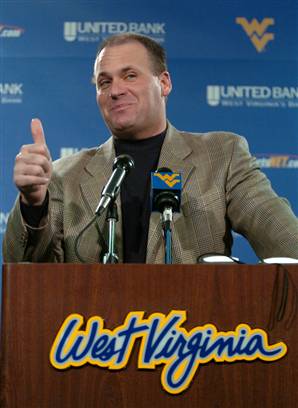 "Hey, look what I just pulled out of my ass!"
Who could have forseen that they'd pony up the whole $4M? Oh yeah, us.

--Rich Rodriguez "Disappointed", "Upset" by WVU Suit (Jan. 2, 2008)
--Rich Rodriguez? The Governor Is on Line Four (Jan. 30, 2008)

For those curious, Rodriguez's contract with Michigan reported pays him $2.5M per year. Take out taxes and the $500,000 he's paying annually to WVU, and it's a big hurting.

Oh, and Rich had better f-ing believe that the IRS is waiting patiently to make sure Rich claims the $2.5M Michigan is paying on his behalf as income. He's going to owe money on the year. I suppose I should be more clear. I'm not saying he won't get a refund. I'm saying he'll owe so much in taxes on $2.5M (salary) AND $2.5M (Michigan-paid penalty) that he might actually be in the red for the year. He'll owe somewhere around $1.5M to $1.75M on that income, depending on his deductions, in addition to whatever he owes the liberal state of Michigan (3.9% of federal tax income).
Don't believe me on the tax mumbo jumbo? Check out this article (free registration to retrieve full text article) written for the Florida Tax Review analyzing a similar buyout payment situation...with purloined-Mountaineer-turned-Michigan-basketball coach John Beilein. They said:
Beilein's buyout obligation arose out of his employment relationship with West Virginia University. It is his personal obligation. There is considerable authority that an employer's payment of an employee's personal obligation constitutes gross income to the employee. It is very likely, therefore, that the Service would contend that the new employer's payment of the buyout obligation is additional compensation to the employee and taxable to him. (internal citations ommitted).
The authors go on to cite a few ways in which Beilein might be able to deduct the "compensation", but I disagree with all of them, though Brien would argue that a buy-out in a college coaching contract is just about as close as you can come to an "ordinary and necessary" business expense these days.
So much for taking the money and running. What percentage, exactly, of Michigan alumni donations to the athletics department covers damages?