According to ESPN.com:

Billy Packer's streak of Final Fours is over after 34 years.

Packer, a color commentator, will be replaced in CBS' coverage by studio analyst Clark Kellogg, according to media reports Monday.

Jim Nantz will continue in his Final Four play-by-play role.

Packer, 68, will leave CBS after 28 years to pursue "other projects in basketball," according to The Miami Herald.

An announcement was expected Monday.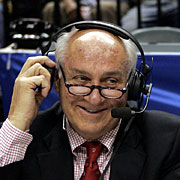 Tar Heel fans collectively to Billy Packer - "shut up old man, or I'll break your hip."
REACT:
I have really mixed feelings about this shake-up. Packer apparently took tons of heat for declaring that the game was over when Kansas was up by about 30 on UNC in the National Semi's this past April, only for UNC to put a huge scare into Kansas and almost come back. I think that freaked out the suits at CBS more than anything, because nothing makes a producer happier than hearing their broadcaster practically encourage viewers to turn a game off with some hour and 30 minutes left in the broadcast. Not like that would piss the advertisers off.
I also dislike Packer for being smarmy, crotchety, and generally speaking, playing the "angry old man" role next to Jim Nantz. Packer could find something that he disliked about anything. Hell, Jesus could be playing basketball against Moses one-on-one, each shooting 100% from the half-court line, with a tie-game in the final minute of play, and Packer would complain about the defense. Personally, it irks me that everytime I put in my tape of the 2002 NCAA Championship game (which is more and more often just to remind myself that the Terps were respectable not too long ago at basketball), I have to hear Packer comment at least twenty times during the First Half that it was the ugliest National Championship game he's ever seen. But you know what? I think more than anything the truth hurts.
But I look at it from this angle as well... Packer provided quality color commentary. He knew the game inside and out. He knew what he was talking about, even if he pissed you off when he was saying it. I can't imagine Clark Kellogg bringing the same degree of insight to the broadcasting table. Nor can I imagine Kellogg conveying the same degree of excitement that Packer could convey. Because for all of his "old man-ism's," when a game was on the line, Packer conveyed the excitement in an understated, non-Gus Johnson way.
I do think the broadcasts will suffer for Billy Packer not being there. All told, I think that the broadcast team of Nantz-Kellogg will just be too mellow for such an important game as the National Championship Game.