After 10 stages over the past week and a half, the overall picture of this year's Tour de France is starting to become a little more clear. While yesterday's high mountain stage to the top of Hautacam propelled Cadel Evans into the yellow jersey, it all but ended the hopes of Alejandro Valverde and Damiano Cunego. Those two riders face gaps of over 4:30 to the lead, which will be difficult to overcome in the next 11 stages.

So who still has a chance to ride into Paris with the yellow jersey?

Cadel Evans


I'm still not sure he has what it takes to win the Tour, even in a weak field. Armstrong, Landis, and Contador all seemed to have those "I'm not left handed" moments where they could kick in another gear to leave a group of struggling rivals behind. Evans tried one big acceleration in the ride up to Hautacam, but wasn't able to shake the group he was with. We'll have to see if he has that ability in the coming stages.
Evans' big advantage is his time trial ability. If he comes into the second time trial within about 30 seconds of the lead, he's likely to win the Tour.
Frank Schleck
Schleck looked very strong in the mountains yesterday until the final 2K. He's had a great Tour so far, but he's not likely to win, especially since his team (CSC) will probably be more focused on helping Carlos Sastre.
Christian Vandevelde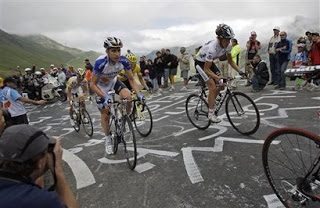 It's great to see the American hanging strong halfway through the Tour. I think everyone was a little surprised that he was able to keep up with the contender group up the mountains yesterday. It would be shocking for him to win, and in order to do it he'll have to do more than follow. On one of the Alpine stages he would need to put in an incredible breakaway.

Garmin-Chipotle has to be thrilled with his performance so far. This is the team's first year in the Tour and Vandevelde's performance validates their approach of having the strictest anti-doping regimen in cycling.
Denis Menchov
I don't think Menchov has shown his cards yet. He didn't put in much work in the lead group up the mountains, but he also didn't appear to be struggling much at all. He may have a big move up his sleeve for one of the later mountain stages.



Carlos Sastre


My pre-Tour pick is still looking strong, but like Menchov he didn't show a whole lot in yesterday's battle. His big advantage over all the other contenders is that Team CSC
is probably the best team on the road. He won't run into situations where he doesn't have any help from his teammates (like Kim Kirchen did yesterday).
Riccardo Ricco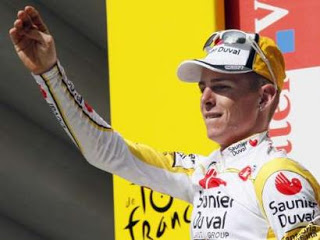 Sure, he claims he isn't trying to win the Tour. Yeah, he's 2:30 down on Evans. I know he looks like the kind of Eurotrash you'd find in a cruise ship discotheque. He's still the most explosive rider in the Tour. He could put 5 minutes on the field in one of the upcoming mountain stages, don the yellow jersey, and never look back.
Out of Contention
Kim Kirchen - he's not that far back, but he's not strong enough to make up the time
Alejandro Valverde - looked great in the first week, but lost it on the mountains
Damiano Cunego - there are always those guys who in hindsight make you think "why was he ever considered a contender?"
Stefan Schumacher - just not good enough
The Road Ahead
The race comes down out of the high mountains tomorrow with a moderately hilly stage followed by three flat stages. Don't look for the yellow jersey standings to change much until Sunday, when the riders start climing the Alps and cross into Italy.
The overall classification certainly won't be decided until the L'Alpe-d'Huez next Wednesday and the final time trial on Saturday 7/26. It's still a wide open race and there should be lots more excitement (and, unfortunately, doping scandals) to come.