I guess this wasn't the year. Not only did Big Brown fail in his bid to become the first Triple Crown in three decades, he finished dead last. Trainer Rick Dutrow said that Big Brown hadn't suffered any injuries, but he definitely didn't look good through the last third of the race.

At the beginning of the race, Big Brown looked to be in perfect position to make a run down the stretch the same way he did in the Preakness. Rounding the final turn, though, Da'Tara started to pull away and Big Brown fell back to the second pack. He didn't respond to jockey Kent Desormeaux when he asked for a final kick, so Desormeaux pulled Big Brown up and they cruised to a last place finish.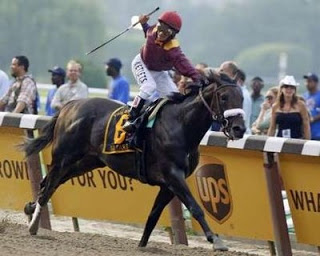 Unlike many horse racing fans, I think it's great that it's been 30 years since we've had a Triple Crown winner. Every year that goes by without a Triple Crown just adds to the mystique surrounding the races. It wouldn't be such an amazing accomplishment to win the Triple Crown if it happened every year.

On a side note, thanks ABC for refusing to show more than five seconds of Da'Tara, Alan Garcia, or Nick Zito after the race. You were essentially saying that the only story here was Big Brown losing, and that Da'Tara winning was a non-event. Great journalism there.