For those of you who don't know, and there are some, Ken Griffey, Jr., is on the brink of hitting his 600th home run. Griffey has stayed above steroid suspicions, but he has still been very damaged by the era in general. Here is a look at the victims of the steroids era.


1) Ken Griffey, Jr. - Only five men have hit 600 or more home runs, and none of them are presently active. Griffey is poised to join the club with his next homer, further developing his certain Hall of Fame resume. Griffey, who for a while was the heir apparent to Hank Aaron's home run record, has been cursed by bad hamstrings and other ailments. The cloud of steroid suspicion has never fallen on him, despite the nagging muscle injuries. Still, he is one of the biggest victims of the steroids era as his accomplishment, a monstrous event just 10 years ago, is now just an afterthought. It's barely receiving the attention that the 500 club got just a decade ago.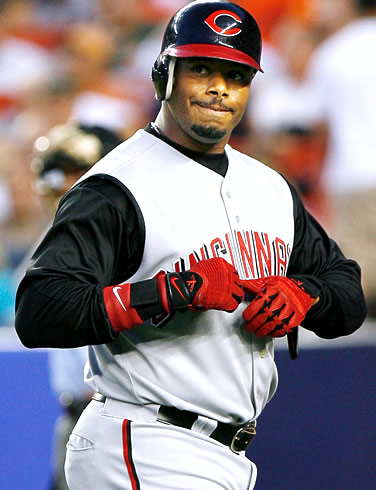 blahblahblah
Ironically, we like this athlete for the guns he DOESN'T have
2) Relief Pitchers - Relievers in general don't have a great shot at the Hall of Fame without gaudy save numbers, but they have been victimized by the steroids era. Many relievers are treated as replaceable cogs, until, of course, they let a few games get blown open and find themselves out of baseball. How did steroids hurt relievers? Consider that starting pitchers, many of whom might have been juicing themselves, can manage a game differently than relievers can. A starter can pitch around the superslugger because he has the whole game to work with and he's most likely going to face the next batter anyway. A reliever often has nowhere to put a big hitter, as he comes in with men on base frequently. Sure, the inherited runners didn't count against the reliever if the big hitter scored them all, but the hitter himself does and allowing a run in a third of an inning is hell on an ERA. The entry in the loss column hurts too. Have a bad couple weeks and an entire promising bullpen career might have ended. I suspect some did.
3) The Fringe Hall of Famers - They come up every year when it's time to argue over the incoming HOF class - Andre Dawson, Alan Trammell, Jim Rice, Dale Murphy, Bert Blyleven, and Harold Baines, among other older players like Ron Santo. There was a time very recently that 500 homers or 3000 strikeouts guaranteed entry to the Hall of Fame. Not having those numbers was not a bar, only a failure to meet the guarantee threshold. Now not having one or the other of those numbers is nearly a death blow to a HOF candidacy. I think Goose Gossage finally making it in last year is instructive. Voters are so frustrated with trying to compare hitters across eras that they started giving Gossage a little more credit for his accomplishments.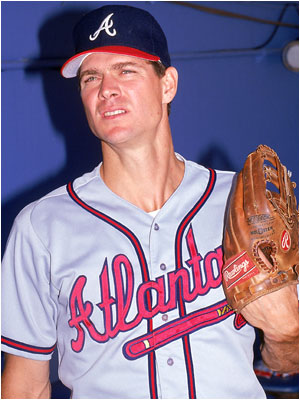 blahblblahahblah
Four Dale Murphy heads fit in one Barry cap
4) The People of Chicago and St. Louis - These are perhaps the two most classic NL cities, and they were really robbed by the steroids era. The Summer of Swat, with McGwire and Sosa trading epic homers, was fantastic for those two cities. The legendary franchises were in need of heroes following the departures of Ryne Sandberg and Ozzie Smith, and Sosa and McGwire fit the bill. I'm sure parents encouraged their kids to look up to them, especially McGwire, who enjoyed an excellent public image despite rumors he was quite surly. We kind of knew what was going on, but these things are easy to overlook when it's the hometown hero. Now we have no doubt, and those fans rightfully should feel robbed.
5) Denver, Colorado - Jesus guys, it isn't rocket science. It is now apparent that at least the players knew steroids were rampant in the league. One could make a fairly safe assumption that management knew as well. The Rockies couldn't sign ANY of these guys to hit in the thin mountain air? Larry Walker, Dante Bichette and Andres Gallaraga are all good hitters, but none of them had the steroids physique. How many playoff runs could the Rockies have made when guys like Bret Boone (who discretely retired after failing to make a comeback with the Washington freaking Nationals) were swatting the ball around like it was elastic? Sure, pitching would have still been a major hurdle, but the Texas Rangers of the mid-1990's proved you can at least MAKE the playoffs by scoring 10 runs a game and allowing 9.
But...the Winners - If there are losers there are probably some winners, and in this case you're reading from one of them. Sports writers and bloggers, to the extent they existed at the time, couldn't have asked for a bigger boon than steroids. First, we got to write about McGwire and Sosa and the salvation of baseball. Then we got to trash all of them and spit vitriol and generally get our panties in a wad. "How dare they?!?" You could argue that sports blogging wouldn't be what it is today without the steroids scandal.
In addition, maybe the fans won. They got entertaining baseball during the era, and they also got a cleaner game because of it. Sure, we could have done without the comedy of the Congressional hearings and the finger pointing denials, some more laughable than others. Seeing Bud Selig all over the television is ALWAYS a bad thing. Barry Bonds staining Hank Aaron's record with a john's disregard for hourly rate hotel sheets was not pleasant. Still, baseball is as strong as ever, if not stronger. Did we win? It's arguable.