These are your free picks in betting the 2008 Belmont Stakes, featuring Big Brown's attempt to win the Triple Crown. Obviously, this guide is not about telling you who will almost certainly win the race. That's Big Brown. It's about helping you find some money in a race where the top two horses seem to be far and away better than the rest of the field.

On to your 2008 Belmont Handicapping Guide...

UPDATE (Friday, 2:25 p.m.) - Casino Drive is injured, and might not run tomorrow. He is not walking properly due to what is thought to be a "stone bruise" on his left-hind hoof. Keep a close eye on this. The worst case scenario is that he would not be scratched, but not be 100% either. Let me bruise your heel with a blunt object today, and we'll see how well you run a couple miles tomorrow. Yeah.

Brien

I think this is the year.
East Coast Bias
I've seen a lot of good horses win the Derby and the Preakness only to tire in the last 2 furlongs of the Belmont, but I think Big Brown is different. Tomorrow we may see the first Triple Crown winner in 30 years. Moments like that are part of the reason I'm a sports fan in the first place.

So the question is, how do you make money on this race? We'll start by looking at the entire field:
East Coast Bias
Big Brown - Clearly the class of the field, he's looking unbeatable at this point. Don't be fooled by the low speed figure in the Preakness, we all saw that he had a whole lot left in the tank after that race.

Guadalcanal - A maiden? In the Belmont? Really? On the plus side, he's the only horse to have raced 1.5 miles previously. Too bad it was on turf.

Macho Again - Good closing speed (on everyone but Big Brown) in the Preakness bodes well for the long Belmont.

Denis of Cork - I'm not biting on the surprise third in the Derby

Casino Drive - I guess this is supposed to be the horse to beat Big Brown? I don't think so. He's only run one race in the US. He's only run two races overall. He's switching jockeys. He'sstepping up three furlongs. He's never run in a race nearly this big.

Da' Tara - In his last graded stakes race, he finished 23 lengths behind Big Brown.

Tale of Ekati - Nothing there to make me think he can compete with Big Brown.

Anak Nakal - I didn't even remember that this horse had run in the Derby.

Ready's Echo - This horse is in the race based on a 6 length loss to Casino Drive in a G2 race?

Icabad Crane - I'm still not sure how this horse managed to make it into the money at Pimlico.
Looking at the odds, obviously Big Brown is the favorite at 2-5, and Casino Drive is the second favorite at 7-2. I'm really surprised that Big Brown's odds are that good, and that Casino Drive's odds are that bad. At 20-1, I really like Macho Again. I'm just going to go with $5 on Macho Again across the board. An exacta including Big Brown or Casino Drive isn't going to pay well enough to be worth it.





J-Red

Well, I cashed $650 in tickets on the Preakness itself in Baltimore three weeks ago. Obviously, I'm going to stick to that strategy, betting a few big exactas with Big Brown in top.

Except I'm not.

The problem with this race is that Big Brown, again, should win relatively easily. His only real trouble could come in the first furlong if Guadalcanal bears in on him at the start, but Guadalcanal (a freaking maiden) has been towards the back at the first call in all five of his starts. There's a risk he could get loose on the lead immediately off the rail pace, and that Desormeaux won't be able to rein him in, or possibly worse will have to be pulling back on him the whole way down the backstretch.

I do have concerns with Big Brown. For one, the only glimmer of early speed in this race is Da' Tara, and we're talking about a 47 and 4 half mile, not something in the 45s. It's Big Brown's pace if he wants it, and I think the field, with the exception of Da' Tara with a little press, will let him have it.

Now Desormeaux has done a great job in the Derby and Preakness keeping Big Brown almost exactly two lengths off the lead coming up to the finish. What if there is no horse in front of Big Brown the whole way around for a mile and a half? We don't know. We're talking about not knowing something on a 2-5 horse that will likely return $5 on a $2 exacta...no matter who is second.

I'm going to look my gift horse in the mouth, and I'm taking Big Brown off the top of my tickets. The next two best horses, Casino Drive and Denis of Cork, are 7-2 and 12-1 respectively. Denis of Cork was not visually exciting in the Derby, but he ran a 97 despite starting dead last and having to pick through the field. The jockey change doesn't bother me, as Albarado has ridden Denis of Cork before to a graded win.

Plus, I like one of these two headlines on Sunday: Denis the Menace and Never Bet on Brown.

I think I'm going to have to accept that I'm willing to lose money to be wrong but have a Triple Crown Winner. I'm not willing to lose money, be wrong, and not have a Triple Crown winner.

My plays:
OPTION 1 (Casino Drive is 100%)
$25 exacta - Denis of Cork, Casino Drive/Denis of Cork, Casino Drive, Big Brown ($100)

$10 trifecta - Denis of Cork, Casino Drive/Big Brown/Denis of Cork, Casino Drive, Ready's Echo ($40)

$10 win - Denis of Cork ($10)

Total bet: $150
OPTION 2 (Casino Drive can't go, or I embrace the inevitable)
$25 exacta - Big Brown over Macho Again, Denis of Cork, Ready's Echo and Icabad Crane
$25 place - Macho Again, Denis of Cork, Ready's Echo, Icabad Crane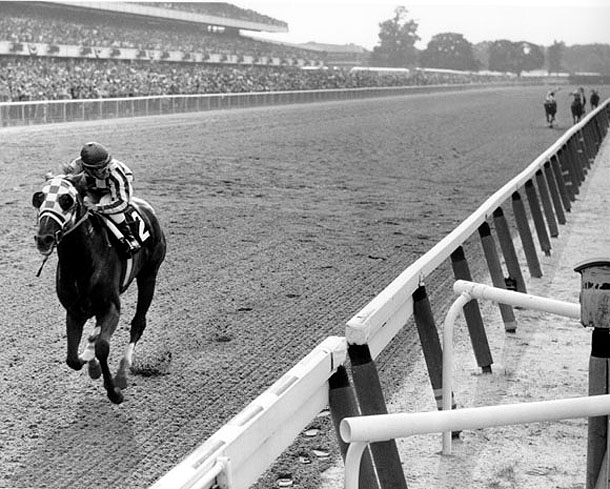 Russell

I'm not going to pretend that any of the other 9 horses in the field can be picked to beat Big Brown. So the question becomes how to bet a race with a likely 1-5 favorite and no clear 2nd-best horse.

Option 1: Take Big Brown with the field for a $2 Exacta bet. Only costs $18 and you have a chance to make some money without putting your life savings down. Unfortunately, everyone else will be doing this too. If you bet on Big Brown to win, you might as well keep the ticket as a collector's item, it'll be worth more that way.

Option 2: In spite of the odds, Big Brown's chances to win aren't really 1-5. The cracked front hoof, the #1 slot where he can get boxed, Kent Desormeaux, steroids... any or a combination of all of those could create disaster. So pick the 3 best other horses and bet them to win. Or if you have the cash, take the field with the field $1 Exacta. If Big Brown wins, you're down $70 or more of the $90 you bet. However, if Big Brown doesn't win, you make a good chunk. If he doesn't place, this will be the Belmont you remember for years. The odds of horse racing say that he will lose sometime; two underdogs in the top two slots could pay in the thousands.

If you are looking at other horses, I like Denis of Cork and Casino Drive, as does every other bettor.
ALSO READ:
Normally we would link to our friends over at Gowanus Rotisserie Baseball Gazette for their always excellent Triple Crown previews. However, we aren't the only ones to notice them, and Deadspin has asked them to do a special preview. Here is that guide.

[Blogger's Note: MAKE SURE SAFE SEARCH IS ON BEFORE GOOGLE IMAGING "BIG BROWN"]