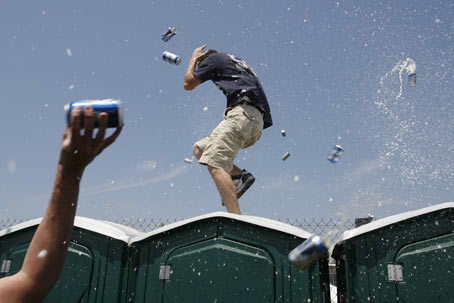 J-Red has covered most of the ECB Preakness field trip in his photo post, but I thought I'd add the things he missed. Here are the things I saw at Preakness:

Guys shaking up unopened beer cans, then smashing the cans against their heads to open them, and then chugging the beer, all while a crowd of people chanted "Rumpelstiltskin." That was a new one for me.
Port-A-Pot races. You really have to see one of these in person to appreciate the lunacy.

A girl pissing on a chain link fence. Standing behind the fence were three police officers who didn't seem to think it was strange.
More airborne beer cans than I thought possible. When people ran on top of the Port-A-Pots, they got pelted with beer cans. When there was a crowd of people, they got pelted with beer cans. When there was a big open area, people threw beer cans at each other across it. I hope the flying beer cans don't lead to the end of a BYOB infield.
Lots and lots of mud.

A whole lot of fights, exactly zero of which were started for a good reason.

Many people carried out on ambulances due to their own stupidity.
An unbelievable number of losing tickets in my pocket. I bet on all 13 races and didn't cash a single ticket. Ouch.
Nine boobs. Refer back to J-Red's post to see why it was an odd number.
A girl get booed for incorrectly flashing the crowd (see above)

The first Triple Crown winner in 30 years.
Photo credit