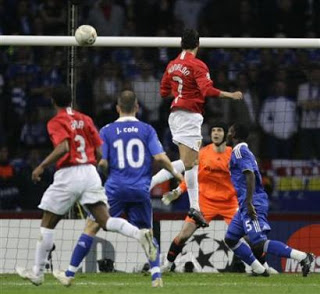 Or, as we say in America, shootouts are total bullshit.

Yesterday Manchester United defeated Chelsea in an all-England Champions League Final. The first half of the match was amazing, with an amazing goal by Christiano Ronaldo and numerous squandered opportunities for Manchester. Right before the halftime whistle, Frank Lampard took advantage of a United defensive breakdown to knot the match at 1.

At halftime I switched to watch a bit of the American Idol finale, but when I switched back 15 minutes later, the game was in the 75th minute. I was watching the 7pm replay of the match, so I guess ESPN cut out half an hour at the beginning of the second half to make the match fit into a 3 hour time slot.

The rest of the match and the extra periods were fairly boring because teams always seem to play extra conservatively in situations like this.

Admittedly, the penalty kicks were exciting, with Christiano Ronaldo getting blocked and looking like he would be remembered as a choker. After that, John Terry missed what would have been the game winning shot when he slipped on the pitch and pushed it wide. Edwin van der Sar came up huge for Manchester with a game winning save to end the game.

The only problem is, a game like this should never be decided by penalty kicks. I know this debate has raged in soccer circles for years, and I've actually switched sides on it. I used to think that PKs were exciting and a great way to end a game, but now I wish they'd just keep playing OT periods. What's better than a playoff hockey game that goes into multiple overtimes? Aren't 2OT and 3OT basketball games exciting?

I know the other side of the argument is always that the game could go on forever, or that the players would get too tired. I don't care. This is the Champions League Final. If there was not a chance of sending the game to penalty kicks, the teams would be a lot more aggressive in the overtimes, rather than playing conservatively and trying not to make a mistake.

This match was a great advertisement for soccer in America, so I'm sure it won't prompt any change. But it should.