http://www.firedebbieyow.com/

That's all you need to know. A website exists for the sole purpose of getting Debbie Yow removed as Athletic Director for the University of Maryland, College Park.

I've been a long-time supporter of Debbie Yow, and she's managed to lead the Maryland Athletic Department through some unparalleled times of prosperity, but let's run through some of my concerns about her performance:

1) Stand by Your Man - First and most obviously, not standing by Gary Williams in the media over the Tyree Evans debacle. GW maybe or maybe not should've never recruited Evans. Nonetheless, he did. There's no reason why Debbie Yow had to come out and say that she was unaware of some of Evans' past indiscretions, thus throwing Gary squarely under all four wheels of the bus and thus making it patently clear that there are tremendous strains and cracks in that relationship. United front Debbie. You ever hear of it? Important leadership concept.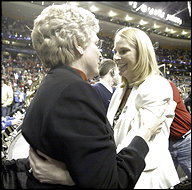 blahblahblah Yow embraces womens' basketball coach Brenda Frese


2) Separation of Sports and State - Letting personal friendships get in the way of sound business decisions. It's clear that Debbie and Ralph Friedgen are very, very close. As Randy Jackson would say (and you though Idol recaps were over), a billion trillion times closer than she is with Gary. Some are unclear as to the reasons. Others speculate that it has something to do with both of their very close ties to the church. I'm not even going to touch that one with a ten-foot pole. All that matters to me is that she decides to sink millions of dollars into upgrading Byrd with luxury boxes and new seats after consecutive losing seasons. Think that money could've gone elsewhere in the athletic department? I do.

3) Let Them Drink Pepsi - Stupid decisions regarding football skyboxes. You know those beautiful new skyboxes that are being built? You know that maybe a quarter of them have been sold? You know why? NO FUCKING BOOZE IN THEM. You run a company. Maryland comes to you and asks you if you are willing to drop tens of thousands of dollars to own a skybox for the season. You think it would be a great opportunity to build client relationships and entertain. And then you have to tell people that sorry... you better fill up on your beer in the parking lot. I've got Pepsi and water and that's it in my skybox. Are you KIDDING ME? Debbie, wake up. You're surrounded by Verizon Center, Nationals Park, and FedEx Field, all of whom have boxes way nicer than the ones at Byrd and all of them that serve alcohol. I get that Maryland is a "dry campus" (try walking the halls of any dorm on a weekend and proving that). Nonetheless, you could've gone to bat for the skyboxes more than you did. Instead, your ill-made business decision in the first place is now going to hemmorrhage money. Good job.
blahblahblah
The planned additions to Chevy Chase Field at Byrd Stadium
4) Loosen Up, Debbie Baby - Sucking life out of the student fans. Do you even listen to the students? Do you even watch games at Comcast Center that aren't coached by Brenda Frese? For one, the scan and leave concept has been popularized by frat guys, Gemstone nerds, and others who want to guarantee that they build up loyalty points to qualify for the Duke game (for those unfamiliar, the current policy is that you get a "loyalty point" for having your ID scanned at a basketball game and your priority for Duke tickets is based on loyalty points). So students come at tip, have their ID's scanned, and turn around, and walk right out. For some early non-conference games, student posters on the Terrapin Times message boards describe flocks of students walking down the hill away from Comcast at 7:05 immediately after tip of a 7pm game. Very simple solution. Scan once on arrival, scan again on departure, and only begin scanning departure tickets ten minutes into the second half. Guess what? People will stay. It's not brain surgery. It's an idea that I'm about the 5,000th person to propose. Nothing implemented. Seas of empty seats in the student section for all non-Duke games practically. Say what you will about this as a descriptor of the state of the Maryland basketball program. Nonetheless, it's an easy solution to a blatantly messed up problem.

5) Hell Damn Fart - Sucking life out of student fans (part deux): No more Rock and Roll Part II. Yeah, because kids these days aren't exposed to the words "suck" and "hell" anywhere in pop culture. Come on, leave YOUR puritanical values at the door. And it's not even poor sportsmanship. The opposing fans and players laugh it off. It's the one thing that binds the student (and alumni) sections together. And it's gone. All because Debbie kowtowed to the screaming minority who wanted it gone because it's an obscene and unsportsmanlike cheer. Hey Debbie... da-da-da-dada-dada-da HEY... YOU SUCK!
blahblahblah
Shaking newspapers is not allowed at Comcast Center
6) No Joy in Shipley
- Maryland baseball. I know this one came out of leftfield (no pun intended). Go to Shipley Field someday. Tell me it's not the poorest excuse for a stadium in a major athletic conference there is (except for maybe Wallace Wade Stadium at Duke). You're in a power baseball conference in an area that has a lot of homegrown talent. You've got two pro baseball teams and you've got a sport that could draw fans out for the same reason minor league ball draws fans out. And you basically turn a blind eye and deaf ear to the legions screaming that Terry Rupp continues to be the worst manager of a baseball team since Cal Ripken, Sr. (limited to April 1988) and a horrible recruiter. Word has come down that a new baseball stadium is in the works. Don't get excited, it's not because Debbie Yow wants it so. It's because the campus wants the Shipley space for a new academic building.
Bottom line is that as a 2002 alum and Terrapin Club member since then, I think Debbie Yow is in a Martin O'Malley circa 2006 situation. Some good things are happening to the athletic department (Baltimore), and Debbie would like to take credit for them, but upon careful inspection, she really can't take credit for any of those things. In reality, the majority of the athletic department (Baltimore) is in a downhill spiral and critical questions should really be asked whether Debbie Yow continues to be the right person for the job.
I'm not yet signing the petition on
http://www.firedebbieyow.com/
but I understand.
Related Links: