This weekend is Memorial Day weekend, or as I like to call it "The Best Motorsports Weekend of the Year" (tm). What makes it so great? I'm glad you asked.

The three major racing series (NASCAR, Formula 1, and IRL) host one of their marquee races this weekend. In the case of F1 and IRL, it is the big race of the year. For NASCAR, it's the longest race of the year, and one of the most exciting for fans.

Like most weekends, there are qualifying sessions, practices, and support races, but they all lead up to Sunday. Here's a preview of each race, in the order they start.

7:30 AM - Monaco Grand Prix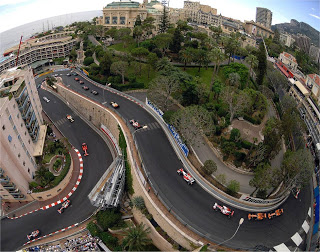 This is everyone's favorite F1 race of the year. For anyone who has played Gran Turismo 3 or 4, the Monte Carlo circuit should look very familiar (it's called Cote d'Azur in the game). It's a temporary street course with tons of elevation changes, hairpin turns, and armco barriers just inches off the racing line.

There's not often a lot of overtaking, but there should be plenty of crashes as any minor mistake will send you into the wall. The scenery is beautiful and the race will be exciting. If you've never seen a Formula 1 race, Sunday is the day to start.

Who's going to win?
History says it will be one of the drivers starting on the front row. Ferrari has looked unbeatable over the last few race weekends, but Monaco is a different animal. I wouldn't bet against Lewis Hamilton on Sunday, and look for Fernando Alonso to make a surprise run at the podium.

12:00 PM - Indianapolis 500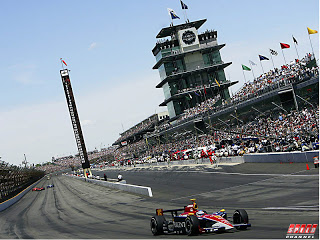 The granddaddy of them all, the most famous race in the world. The big story this year is the merger of the IRL with the Champ Car World Series (formerly CART). Will any of the former Champ Car drivers make their mark on the IRL in a big way this weekend?
No matter how far American open-wheel racing has fallen in the past 20 years, the Indy 500 is still one of the premier sporting events of the year. People who never watch racing at all tune in to the Indy 500. Of course, there are also people like my wife, who just found out this year that the Indy 500 isn't a NASCAR race (and then claimed that "only losers would know that").
Who's going to win?
Scott Dixon looks like the class of the field, but the sentimental favorites have to be Danica Patrick, Marco Andretti, and A.J. Foyt IV. Danica and Marco both have a pretty good shot at winning as they've run well at Indy in the past.
5:30 PM - Coca-Cola 600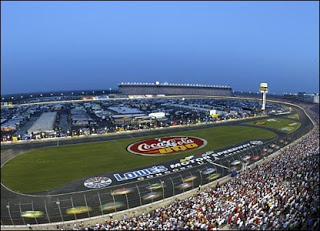 This is a long race. In fact, it's the longest oval race anywhere in the world. (This is where all the NASCAR-haters make their jokes about 600 miles of driving around in circles.)
The crazy part is, the extra 100 miles makes the race a lot more exciting. The race starts in daylight and ends at night, and the changing track conditions force the teams to adapt and make changes throughout the race. Drivers have to survive 600 miles of racing just to have a chance at a win. That's around 4 hours of staying on the lead lap, not making any mistakes, and staying in a position to fight for the lead. It's a marathon, and it's a lot of fun to watch.
Who's going to win?
Well, Jimmy Johnson is never a bad bet to win any race, especially one at Lowes. But I'm going to go with the hottest driver in any form of racing today, Kyle Busch. I think Rowdy wants to win this one, and he's not going to let anyone get in his way.
There you have it, you can spend over 14 hours Sunday watching some of the best racing you'll see all year. Put off the barbecuing and quality time with the family until Monday, and leave Sunday for the cars.