Rick Dutrow, Jr., the trainer of Triple Crown contender Big Brown, knows just where to place the blame for Big Brown's failure to win the Belmont - Jockey Kent Desormeaux.


I was willing to give Dutrow a little benefit of the doubt. Sure, he had been in trouble for doping horses. He associated with people caught up in penny stock schemes. He ran his mouth like T.O. high on Michael Irvin's coke. He disparaged other horses. Now, let me be the 10 millionth to say it: Rick Dutrow, Jr., is a total asshole.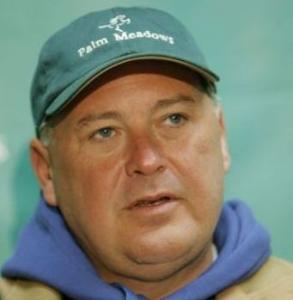 blahblahblah
Asshole Rankings: Rick Dutrow > Dick Cheney > Kobe Bryant
What about the Goddamned horse, Rick? Desormeaux got perfect trips in the 20-freaking-horse Derby and the Preakness. He had Big Brown in excellent position in the Belmont, just off a meandering pace. Sure, he was a little more outside than was optimal, but against this competition that shouldn't have mattered. He did everything right, up to and including the moment he pulled Big Brown up when it was obvious he could not win, preserving him to spawn his expensive progeny.
Big Brown did not want to run Saturday. From the start he was jerking his head to the outside on every stride. We need to remember that this was the horse's 6th race. We don't know if he: a) sucks in the heat, b) gets disinterested off a slow pace, c) chooses not to run every 6th race or so, d) doesn't like starting on the rail, e) can't re-fire after he gets slowed down to preserve him for a 1.5 mile race, f) is injured or ill in a way that doesn't show up clinically, but also doesn't make him want to run, or g) any other reason under the Sun.
We do know Kent Desormeaux is a good jockey who routinely obtains results. We do know Rick Dutrow, Jr., is a weaselly asshole who is nearly universally disliked by the other trainers and nearly everyone else in the industry. If I were Michael Iavarone of Big Brown's ownership firm, IEAH, I think I'm dumping Dutrow and sticking with Desormeaux.
Let's compare and contrast mistakes made by Desormeaux and Dutrow:
Desormeaux
--Ran a little further off the rail than optimal
Dutrow
--Incentivized spoiling Big Brown's run with his mouth
--Changed Big Brown's training regiment between the Preakness and Belmont
--Skipped Big Brown's injection of Winstrol
--Caught cheating
--Associated with known criminals
Yeah, Rick, I'd be deflecting too. Asshole. Maybe you can drop about 175 pounds and ride him yourself next time.