For over a decade, the Atlanta Braves featured a trio of starting pitchers unequaled at that time, and possibly the greatest trio ever to pitch together for such a period. Now, Smoltz has had another operation, on his shoulder this time, and may never pitch again. Glavine, never on the DL before this year, has already had two stints on the DL. ESPN reporters and everyone in Atlanta are talking about the possibility that all three could retire at the same time, creating an unparalleled Atlanta celebration at the Hall of Fame induction ceremony 5 years later. In honor of the three great pitchers, here's a rundown of their greatest stats, and which one I think is the best.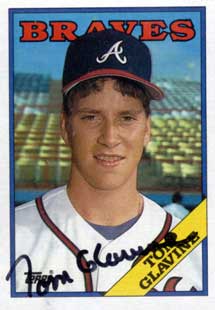 Tom Glavine
(1987-pres.) - The definition of a crafty left-hander, Tom Glavine has been a model of consistency for two decades. Winner of 2 Cy Young Awards and the World Series MVP in 1995, Glavine joined the 300 win club last year as a Met. His career record is 305-202, with a 3.53 ERA. Glavine has the 4th most wins by any lefty, and started over 30 games in all but 3 years since becoming a full time major leaguer in 1988. He even started 25 games in the strike-shortened 1994. Glavine left the Braves for the Mets in 2003, but returned to the Braves this year.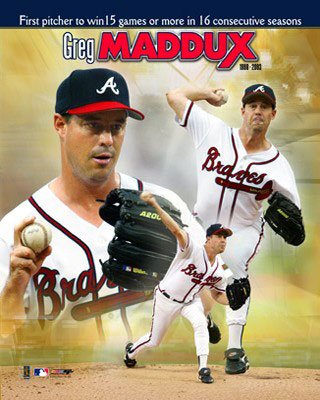 Greg Maddux
(1986-pres.) - A man you would think more likely to be a professor than a professional athlete, Maddux has been tricking hitters for as long as I can remember. Maddux is 9th on the all-time wins list with a record of 350-218, in front of greats such as Nolan Ryan, Phil Niekro, and Don Sutton. Maddux has been a model of consistency almost as much as Glavine, starting about the same number of games in every season for a total of 721 starts! Maddux is also a member of the 3,000 K club, in spite of never being known for overpowering stuff. Maddux is 11th on the all-time strikeout list, and could easily sneak into the top 10 before the end of the year, only needing 26 more to pass Phil Niekro. Maddux's career ERA of 3.12, and from 1992-1998 he was almost unhittable with his ERA exceeding 2.50 only once in those 7 seasons. His dominance yielded 4 straight Cy Young's from 1992-1995 (a record which has since been tied by the Big Unit). In addition, Maddux has always fielded his position well, winning a staggering 17 Gold Glove Awards between 1990 and 2007 (that's 17 in 18 years, incredible). Maddux has not pitched less than 198 innings in any season since 1987, and set a record by winning 15 or more games in 16 consecutive seasons.
John Smoltz
(1988-pres.) - Widely considered to be in a two-man club with Dennis Eckersley, Smoltz is the only pitcher to win 200 games, save 150, and strikeout over 3,000 hitters. Plagued by arm problems later in his career, Smoltz's ERA has not exceeded 3.50 since 1994. Smoltz's career record is 210-147 with a career 3.26 ERA. In addition, much has been made of his postseason success, a 2.70 ERA in 203 IP. John won his Cy Young in 1996, as a starter. However, as dominant as he was as a starter, his best year was in 2003, notching 45 saves in 49 opportunities with a stellar 1.12 ERA. Smoltz always had the hardest stuff of the 3 All-Stars, and achieved his 3,000 strikeouts in significantly fewer innings.
In summary, the three won 7 Cy Young's in the 8 years from 1991 to 1998, and the highest career ERA for any of the 3 is 3.53. Remembering that all of them pitched through the entire steroids era, that's an absolutely incredible feat.
I believe Maddux to be the best of the three, and a no-brainer first ballot Hall member. Smoltz belongs in that club as well, one of the few pitchers to achieve success as a starter and a reliever, and absolutely dominating for short stretches. Glavine should also be in the Hall of Fame; his stats aren't quite as gaudy as Maddux and Smoltz, but winning 300 games during the steroids era should be sufficient for immediate entry. Let's hope these three friends can go into Cooperstown together. All three were consummate professionals and represented themselves and baseball well at all times.