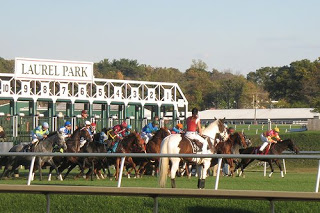 I know you thought you were all through with having to read horse racing posts here, but I've got one more left.

Bromoblog has an excellent suggestion to rename Laurel Park after the late Jim McKay. McKay was born in Philadelphia but went to Loyola High School and Loyola College. He also retired to a farm in Monkton (northern Baltimore County, for those that care).

Always a big supporter of horse racing, McKay created the Maryland Million, which is the second biggest day of horse racing in the state.

I've been to Laurel more than any other track, and it could definitely use an identity. McKay seems like someone who clearly deserves some recognition by the Maryland horse racing industry. Sounds like a win-win situation. Too bad Magna Entertainment is far too incompetent to make it happen.

Here are some naming options:

Jim McKay Park
McKay Racetrack
McKay Racetrack at Laurel Park
That Guy Who Called the Munich Olympics Racetrack at That Shithole North of College Park
OK, let's stick with Jim McKay Park.