Now that you've heard why Brien, Jeremy, J-Red, and Russell are sports fans, we turned the floor over to some of our favorite bloggers. Thanks to those who responded.

Will Leitch - Deadspin, author of God Save the Fan
I'm a sports fan because there are so few absolutes on the planet that sports does a public service -- no, a public DUTY -- by providing anywhere between one and 60 every single day. I'd be lost without them

Big Daddy Drew - Kissing Suzy Kolber, author of Men With Balls
I'm a sports fan because, like everything else I do, it makes for a great excuse for drinking.
I love NFL specifically for reasons I can't really explain, which is what makes it all the more lovable. I enjoy loving things irrationally.

Dan Steinberg - DC Sports Bog
I'm a sports fan largely because of Brent Mayne.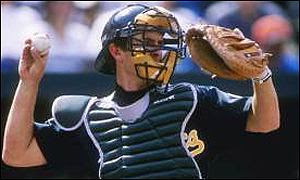 I was watching some stupid meaningless baseball game in the summer of 2000, when I was working as a cheese clerk at Whole Foods. I had sort of dropped out of sports fandom during college, gradated in 1998, and didn't have cable for the first year or so of my post-college life. I started watching sports again when I moved houses, and then somehow I was half-asleep on a couch watching the game described like this in Wikipedia

On August 22, 2000, the Colorado Rockies sent Mayne in as a relief pitcher in the 12th inning against the Atlanta Braves. Mayne, the Rockies' regular catcher, was unable to swing a bat due to a sprained left wrist and had missed the previous four games. Out of pitchers, manager Buddy Bell asked Mayne if he could pitch. Mayne, who later said he had never pitched at any level, responded, "Yeah, I can pitch." He pitched one inning, surrendering no runs with a fastball that topped out at 83 miles per hour. Colorado won the game the next inning when rookie Adam Melhuse, pinch-hitting for Mayne, singled with the bases loaded and two outs. Mayne thus became the first position player to be credited with a win since 1968.

I have no allegiance to either team, and don't remember if this game mattered in the standings at all, but the Rockies seemed to be having so
much bleeping fun watching Mayne pitch, and then get the win. It was impossible not to smile. I find most sit-coms to be stupid, lost my energy
for reality TV, don't have the attention span to read novels any more and don't really dig music. But I was laying there and thinking: this makes me
happy.

Of course, then sports became my job, and now it's tougher to see sports as a vehicle for escapism, but there are still moments.

Dewey Hammond - Yardbarker

I used to actually play sports, way back in the 1980s. Remember the '80s? The Yankees were terrible, as opposed to today's mediocre, $200 million team. Short-shorts were as ubiquitous as today's tattoos, and Rodman didn't have any of the latter. A million dollars was a huge salary for any athlete. But in the past 15 years, I've traded playing sports for watching sports, arguing about sports, being sore when I occasionally try to play sports, and the various other headaches that come with being an adult. Even though sports haven't made me cry actual tears since Syracuse lost the 1987 men's basketball championship to Indiana, neither my appreciation nor passion have wavered.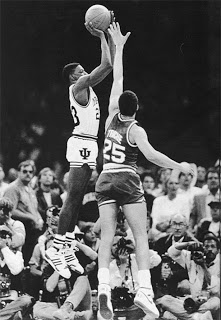 Sports give the average man, woman and child the opportunity to live vicariously, take pride in their hometowns, and endure endless suffering with the hope that one day the summit may be reached, that your team may finally take home that elusive title. My t-shirts, hats and sweatshirts commemorating Baltimore's Super Bowl XXXV victory are all stained, ripped or are MIA, but the memories haven't faded, except perhaps the second half of the game, during which time I was blind drunk and already celebrating the fact that no team comes back from a 10-point deficit on Ray Ray in his prime. But over the years, I've learned to appreciate the defeats as much as the victories. In some cases, maybe more so. The 2005-2006 Villanova Wildcats basketball team. The 1997 wire-to-wire AL East Champion Orioles. Last year's Golden State Warriors.

When I was a kid, I daydreamed about playing professional sports, and that dream was my reality. I watched games and imagined that one day it would be me. But now I'm pushing 30, reality cemented itself long ago, and sports are my escape. Trite but true. When it's a tie game in the fourth quarter, I'm not thinking about my long list of responsibilities. I'm thinking about whether or not Kobe will hit the shot. Or if Phil Jackson will inexplicably put the ball in someone else's hands. But win or lose, it's a whole lot better than worrying about paying the rent.