HEY!! You're already here. Why not enter our Caption Contest? The funniest caption gets a $50 MLB.com gift card.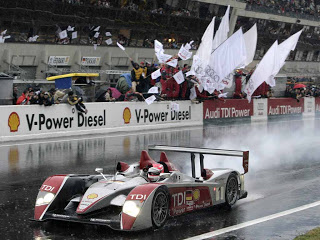 This weekend features one of the most unique sporting events in the world. Actually, it started about 30 minutes ago. Don't worry, though, it won't be over until tomorrow morning. That's right, it's the 24 Hours of Le Mans!

For most, the idea of watching a 2 hour car race, particularly a non-NASCAR one, sounds like torture. But for the true motor-sports fan (or the insomniac) the Le Mans 24 Hours is an exciting event.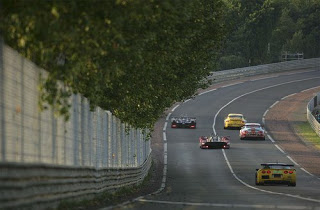 Photo credit: Stormshadow

In the US, SPEED is showing 16 hours of coverage, 3.5 hours of the start (8:30-Noon) and then the final 12.5 hours of the race overnight (9:00PM-9:30AM on Sunday). If you're up all night because of a screaming baby, irresponsible drug use, or simple insomnia, definitely check out the race. If you're up early Sunday morning, check out the finish.

Not convinced? Here are a few more reasons to watch:

David Hobbs. He's the best color commentator in any sport.
The Circuit de la Sarthe. It's one of the coolest tracks in racing. Mostly country roads that are converted to a track for this race, it features a 3-mile straight punctuated only by two small chicanes.
Former F1 drivers. If you're a Formula1 fan, you'll see a lot of names you recognize: Christian Klien, Alex Wurtz, Jos ver Stappen, and others are all racing
It's the only event of its kind. There are imitators like the 12 hours of Daytona and Sebring, but Le Mans is truly one of a kind.
It's a great chance to tell your wife "Sure, honey, just after the race is over" and buy yourself a whole day.