Now the Tour really starts. After two weeks of cat-and-mouse games in the flat stages and the Pyrenees, we're down to 6 riders with a shot at the yellow jersey. The time in between the rest days was mostly for the sprinters, but yesterday's first Alpine stage set the tone for the week to come.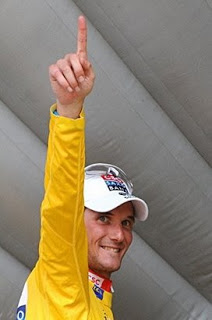 I think everyone expected to see the field separate a little bit after Stage 15 yesterday, with a few of the contenders dropping off. Instead, we're left with 6 riders within a minute of new leader Frank Schleck. Here's a look at how close the standings are at the top of the leaderboard:


| | Rider | Team | Gaps |
| --- | --- | --- | --- |
| 1. | SCHLECK Frank | TEAM CSC SAXO BANK | |
| 2. | KOHL Bernhard | GEROLSTEINER | + 00' 07" |
| 3. | EVANS Cadel | SILENCE - LOTTO | + 00' 08" |
| 4. | MENCHOV Denis | RABOBANK | + 00' 38" |
| 5. | VANDEVELDE Christian | GARMIN CHIPOTLE | + 00' 39" |
| 6. | SASTRE Carlos | TEAM CSC SAXO BANK | + 00' 49" |
That's really close. Any of those six have a shot at winning it all, and the next two stages will thin down that field even further. Tuesday and Wednesday are both grueling mountain stages in the Alps, with the climax being Wednesday's finish atop L'Alpe-d'Huez.
If you're going to watch one stage of the Tour de France this year, it should be Wednesday. There are 3 "HC" category climbs in the stage. HC means hors categorie, French for "The f-ing thing is too big to categorize." The finish line is at the top of L'Alpe-d'Huez, the Tour's most famous mountain. It will be packed with fans lining its famed switchbacks and you'll see some of the best athletes in the world reach the point where they can't keep up with their rivals. There aren't many sports events where athletes with unbelievable conditioning are forced to say "You know what, I can't do this anymore, you guys go on ahead without me."
The two stages in the Alps will set the stage for Saturday's final time trial. It's unlikely that anyone will have a big enough lead coming into the time trial to coast, so this is the stage that will really determine the winner. No teams, no slip-streaming, just each individual rider pushing himself to try to gain every second possible. It's going to be a great finish.
Predictions
This is probably pointless, but I'm going to take a stab at predicting what will happen in the final week of the Tour. Either Tuesday or Wednesday (possibly both) we'll see Denis Menchov and Carlos Sastre try to break away from the field to gain some time on the leaders. Menchov can do it (he almost did yesterday, but his wheel slipped out from under him as soon as he started to break away), and I think we'll see him wearing yellow into the time trial. Cadel Evans looked spent at the finish yesterday, and I don't think he'll be able to make up time on Schleck until the time trial, which may be too late. Kohl and Vandevelde are just happy to be in this position, and won't try to attack too much, which would risk them falling further down in the standings.