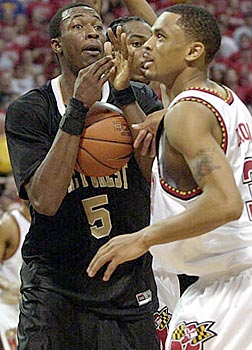 Hi, I'm Josh Howard. I hate the National Anthem.
American Idol:
8:00 p.m. - 10:00 p.m.
Maryland vs. #10 Wake Forest: 9:00 p.m. - 11:00 p.m.
Idol
keeps conflicting with meaningful Terps games. Your regular
Idol
recapper is at Comcast Center and all his co-contributors are watching the game. By the time we DVR, the results show will be on. All we can say is we're rooting for our boy from Bowie but don't love his chances.
Look for us back immediately upon the resumption of live performances and voting. By that time there shouldn't be a conflict with meaningful Terp games.