First, some background. I love Fox's NASCAR coverage. The announcers seem to actually enjoy their job, which is a huge advantage over the Buzzkills at NBC and TNT. But sometimes the fun goes a little too far.
Fox has a camera in the track, sort of like the home plate camera in baseball. Great idea, it gives a different view of the track and some cool footage at times. Then, they made a cute little graphic of a gopher to show every time they switch to the in-track cam. That's a little annoying, but not surprising given the graphic saturation of a NASCAR broadcast. Of course, the gopher needed a name, which launched a months-long contest that ended with the obvious (and uninspired) choice of "Digger."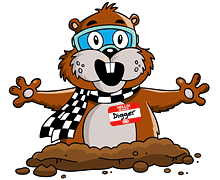 At this point, I thought that Fox had gotten all of this nonsense out of their system. They could pop up the "Digger Cam" graphic approximately 20,000 times a race, what more could they want? Much more, it turns out.
At the Daytona 500, Fox debuted a Digger theme song by country superstar Keith Urban, which is every bit as awful as it sounds. I don't know who at Fox has incriminating pictures of Urban that they threatened to show Nicole Kidman, but it's good enough blackmail material to make him whore himself out like this.
As if all that wasn't bad enough, they also premiered the first episode of the Digger show. Each week during the pre-race show, there is a 2 minute animated short featuring Digger and his crazy band of buddies running around a racetrack trying to avoid a police wolf or something like that. It's like Tom and Jerry without any kind of imagination or sense of humor and with some NASCAR branding thrown in. See for yourself:
Oh, and there's also a
Digger Store
at foxsports.com where you can buy t-shirts and a $10 beer coozy.
I know, I should have expeced this when I decided to watch a NASCAR pre-race show.