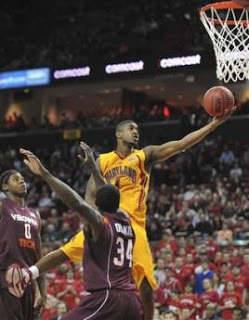 After a few weeks of nothing but "The Sky is Falling" comments from Terps fans, I thought it was time to review what's going right with the team and the program.
Every other Terps blog commented on the Washington Post's 3-part article about how Gary can't recruit called "
Missed Shots
." I didn't read the articles, but I read some of the reactions to them, and the one thing I had to say is that Gary has never been an "All Star Team" recruiter. Some coaches like to assemble the best players they can find into an all-star team and think that gives them the best shot at winning. Gary's philosophy has always been that it's more important to have good character guys who work hard and play together as a team. That's what brought home a National Championship, and I trust him to keep going with that approach.
The game against Virginia Tech yesterday was a great showing by the team. Tech never gave up, and Seth Greenberg kept making adjustmets, but the Terps managed to maintain a 6 point lead for most of the game. When the Hokies finally managed to get the lead down to 3, instead of folding the Terps went on a 6-0 run to take control back.
Making the NCAA tournament is still a long shot, but it's not out of the question. The Terps are now 5-5 in the ACC, but have a brutal schedule coming up with 4 out of the next 5 games against Top 12 teams. To make the tournament, they'll need to win against some very good teams.
The future looks bright for the team. Even though Dave Neal is graduating and Hayes and Dupree haven't progressed as quickly as fans would like, there are lots of reasons to be hopeful for next year. The two biggest ones are Landon Milbourne and Sugar Sean Mosley.
Milbourne has grown by leaps and bounds this year, and while he still does a disappearing act for long stretches of games, but he's becoming a reliable scorer. While he's not a really big player (he's only listed at 6-7) his strength lets him play like a much bigger man.
Mosley was expeceted to make an impact this year, but early in the season he struggled to find his groove. Now he's an indispensable part of the team, bringing a Byron Mouton-ish hustle and intensity to every play. He makes all the little plays: steals, drawing charges, tough rebounds, drawing off-the-ball fouls, and earning held balls. Hopefully his work effort will rub off on the rest of the team.
So while this hasn't been a banner year for the Terps, we still have it pretty good, and there's every reason to think that things will be even better next year.