Before I get into the meat of this post, Maryland has three triple-doubles in school history. The other two were in 1987 and Derrick Lewis achieved the feats using points, blocks and assists against University of Maryland - Baltimore County (UMBC = U Made a Bad Choice) and James Madison. Tonight Greivis Vasquez accomplished it against #3 UNC. That poses a pretty good argument for best single-game performance ever by a Terp.
spacer

The gist (not James) of the post, however, is to point out something that we probably fail to notice as Dook-centric Terps fans. Gary Williams has done very well against North Carolina over the years. Since 1989-90, Coach Williams is 18-25 against UNC.

Yes, that's a losing record, but let's see where UNC was ranked for each win...

1/10/90 - NR
2/17/90 - NR
3/1/92 - 10th
2/7/95 - 1st
2/6/96 - 12th
1/8/97 - 13th
1/14/98 - 1st
1/13/99 - 9th
2/13/99 - 12th
2/26/00 - NR
1/9/02 - NR
2/10/02 - NR
1/22/03 - NR
2/22/03 - NR
1/14/04 - 9th
2/25/07 - 5th
1/19/08 - 1st
2/21/09 - 3rd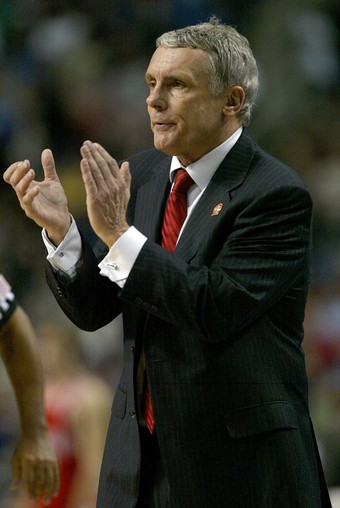 blblablahblahhblahblahblah I'll ride with Gary.
Just getting 18 wins against UNC would be impressive enough. Factor in that EIGHT of those wins came against top ten teams, and you'd start to think Gary knows the antidote to NBA-ready Tarheel teams. Throw in that he's beaten FIVE top-five teams and THREE #1 Tarheels' squads, and you'd wonder why anyone would talk about getting rid of him.
And lest we bought into the whole "Maryland is done" or "Gary is done" recent talk, some of which came from certain bloggers here, let's not forget that the 2nd through 10th spots in the ACC are still up for grabs here in late February.
The same bounces that caused Wake Forest to beat UNC before losing to supposed ACC bottom feeders Va Tech, Miami, Ga Tech and NC State could go the other way for Maryland in the homestretch.
The same people who said "Gary can't recruit, just look at Georgetown!" might be trying to find a better argument now that Georgetown is 5-9 in conference with the only 2009 wins coming against Providence, Rutgers, South Florida and Syracuse.
Let's take a deep breath and prepare to get back at Dook.