The Redskins are no strangers to offseason news, but we usually have to wait until October to see that they've totally screwed the pooch yet again. A pair of early-April stories that surfaced again today make me think this might be the best year yet for Redskins' incompetence. Given this organization's track record, I'm thrilled to see the new depths they might achieve.

hblahblah "Mr. Cerrato, most adults aren't this captivated by the birdie."

The first and smaller news story is that the Titans are strongly considering filing tampering charges against the Redskins, who reached an agreement in principle (and a lot of principal) with DT Albert Haynesworth a mere hours after free agency began. The Titans have asked the league to conduct an investigation. Already, Skins GM/lapdog Vinny Cerrato has made comments on his radio show that could be construed as a reach-out to Haynesworth before the period opened. On March 11, Skins KR/RB Rock Cartwright said "I kind of had an idea they were going to sign [Haynesworth] anyways ... One of my teammates said they had the same agent and ... he said they had been talking." Haynesworth and WR failure Malcolm Kelly have the same agent. The quote and tidbit about the shared agent come from Fanhouse.

The league is notoriously bad about enforcing the tampering rules, but maybe there will be a little fire behind all this smoke. The penalty is usually forfeiture of draft picks, but it's rare for the Skins to have many anyway.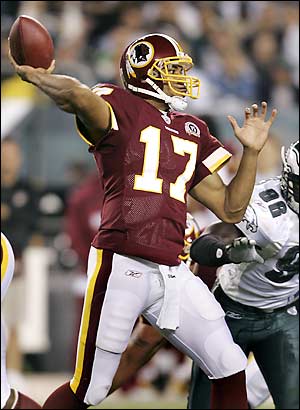 The bigger story is that the Skins publicly swung and missed in their attempt to land promising, young, petulant QB Jay Cutler in a trade with Denver. The Skins incumbent QB, Jason Campbell, has long been the target of Redskins fan ire. Many even would prefer Todd Collins. In a related note, most Skins fans are somewhere between delusional and stupid.

Campbell has reacted well to the news that he was wanted less than an unpopular malcontent whose rookie head coach tried to replace him with Matt Cassel within minutes of taking the job. "Hey Jason! We loved you all along!" That doesn't work on girlfriends, and I bet it doesn't work on quarterbacks either. At least they didn't go after Kyle Boller.

More than most seasons, I can't wait for 2009 to kick off. The Redskins appear headed for an implosion above and beyond their usual.