The Washington Nationals today signed 28-year old left-handed slugging first baseman/outfielder Adam Dunn to a two-year deal, details to be announced tomorrow, but Tom Verducci of Sports Illustrated reports that the total contract is $20 million.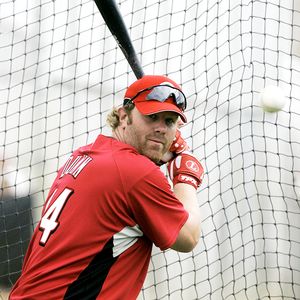 In seven full years in the big leagues, Dunn has averaged 37 home runs and 89 RBI per year. While he strikes out a disproportionately high number of times per AB, his slugging percentage is pretty damn good.

To put this into perspective, last year, Lastings Milledge and Ryan Zimmerman were tied for the team home run lead.

With 14 home runs.

Last year, Lastings Milledge led the team in RBI.

With 61.

Dunn isn't just a hitter. He also brings solid fielding to the diamond. Playing right field, left field, and first base at various points in his career, he has a career .974 fielding percentage. This .974 fielding percentage, while not great, puts him right in the middle of the pack of last years' Washington Nationals, slightly below Austin Kearns, and ahead of Elijah Dukes and Ronnie Belliard.

But more importantly, the addition of Dunn shows that the team is committed to signing talent and making this team better. The status quo in Washington would have been toxic. A 59-loss team that didn't improve markably over the offseason (granted, Willingham and Olsen were nice pickups, but not earth-moving pickups), that was out-and-out spurned by Mark Texeira, that is suffering from a ballpark development project that is stalled due to the economy (the surrounding neighborhood of bars and restaurants around Nats Park are now at least 1.5-2 seasons from completion whereas many were supposed to open in time for Opening Day 2009), and that is seeing its season ticket base dry up and shrivel faster than Cloris Leachman, needed a shot in the arm like this. The Nats get an instant star and somebody to build "NatsTown" around. As J-Red says, the only thing Nats fans have to pray for is that he "pees clean."

Additionally, Dunn will have an impact elsewhere in the lineup. He provides protection for guys like Ryan Zimmerman and Lastings Milledge, who before were attacked by opposing pitchers because they often came up with nobody on base and nobody behind them in the lineup.

Finally, somebody like Dunn changes the mindset of the Nationals fans. Whereas before, if we were losing by 3-5 runs after the 6th inning, it was time to head for the exits, as there was just nobody in the lineup who could make the game competitive. Now, that's not exactly the case anymore.

While terms haven't been announced, it's safe to say that Dunn signed with the Nats today for less than the Nats would have had to pay some weeks or months ago, before it became clear that it was a buyer's market for free agents.

Give credit where credit is due, nicely done Kasten and Bowden. And thank you Lerners for opening your wallets.