A little under ten minutes ago, ESPN reported that 13-I Want Revenge has been scratched from this evening's Kentucky Derby. That's going to lead to some scrambling and erratic betting, so the Derby is even more intriguing from a profit perspective. Here are some amended picks...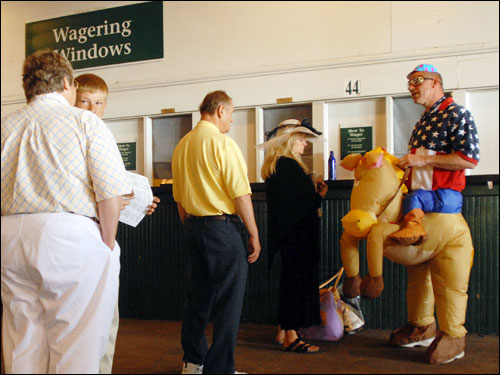 Now that we're closer to post time, we have a little more reliable weather forecasting to go by as well. According to The Weather Channel's hour-by-hour forecast, the chance for rain peaks between 3 p.m. and 5 p.m., but it does not look to be a soaker. I am going to assume that we'll see a damp, but not sloppy, track.
Based on internet buzz and the possibility of rain, I think 6-Friesan Fire will now go off at about 3-1 and 16-Pioneer of the Nile will pick up less of the betting slack in the wake of I Want Revenge's refunded tickets. Still, 7-Papa Clem should remain a good value selection at around 12-1 to 15-1. Strict Beyer handicappers might be drawn more to 15-Dunkirk's race-high 108. He remains a wild card, like the UAE horses, due to his lack of experience.
My B-Team horses remain 1-West Side Bernie, 2-Musket Man, 11-Chocolate Candy, 12-General Quarters, 15-Dunkirk, and 16-Pioneer of the Nile. I am reintroducing the synthetic horses now that I don't have to play with I Want Revenge being the clear class of the race.
I think I will shift gears a little and hit hard with exactas that have 6-Friesan Fire and 7-Papa Clem on top. I am thinking $4 6,7 OVER 1,2,6,7,11,12,15,16 for $56. I'll hedge with $2 15 OVER 6,7 to keep us at the original $60 budget.
On a $100 budget, I'd add in a $1 trifecta box of 2, 6, 7, 15 for $24. 2-Musket Man would be a great value exacta winner, so I'd try $2 exactas 2 over 6, 7, 15 for and add him to my Dunkirk hedge for an additional $2. We have $8 to play with, so how about some pot shot trifectas? Let's try $1 on 6, 7 over 1, 2, 15, 16 over 6, 7 for the rest of it.
On a $200 budget I'd play $50 to win and $50 to place on 7-Papa Clem.
Brien
With I Want Revenge Out, the race becomes much more fo a crapshoot. I'm going to stick with my original picks, and just drop out I Want Revenge. The strategy here is to take horses that look pretty good and are likely to go off at decent odds.
I'll take a $2 box exacta on the long shots - Musket Man, Hold Me Back, Papa Clem, and Desert Party. That's a $24 bet.