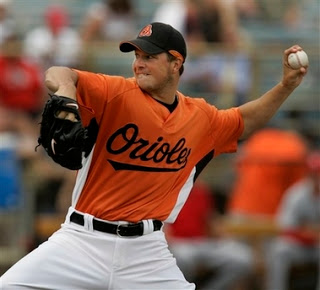 I haven't followed the Orioles very closely since High School, when I read the newspaper every morning (and the Orioles were actually pretty good). I've often questioned whether that makes me a fair weather fan. With baseball, more than football or basketball, I think it's very hard to get excited about your team in a season that they have little to no chance of making the playoffs. As we saw with the Jets last year, any team in the NFL can make a run at the playoffs, no matter what the preseason predictions say. And if your team starts out really bad, at least you can follow the games with interest to see where they'll end up in the draft order.

With baseball, by the All Star Break, half of the league is looking at an 80 game death march through the rest of the summer. How can a casual fan get excited for that? Is everyone who stops checking the box score every morning after their team gets more than 15 games out of the wildcard a fair weather fan? I sure hope not.

No one seems very optimistic about the Orioles' chances this year (or in the foreseeable future), but I'm still holding out hope that our young starting pitching (especially Bedard and Cabrerra) is going to develop and provide the foundation for a run of successful years. Maybe this year I'll still be checking the scores in September.