Who protects their house? Since 2000, the strength of home field advantage has varied league-wide.
**All statistics are regular season only. Houston has been adjusted to account for not existing in 2000 or 2001**
2000 - 54.0%
2001 - 54.0%
2002 - 58.0%
2003 - 61.3%
2004 - 56.6%
2005 - 59.0%
2006 - 53.1%
2007 - 57.4%
2008 - 57.2%
These teams protect their house the best, winning the highest percentage of their home games:
Team - Wins - Win Pct.
But the home winning percentage is less telling than the percentage of a team's wins that come at home. In other words, is a team collecting its wins primarily at home or on the road?
You might be surprised to see some good teams at the bottom of the list, including Pittsburgh, Indianapolis, New England, Philadelphia and the New York Giants. These teams are typically in the playoff hunt, yet they win more games on the road than at home.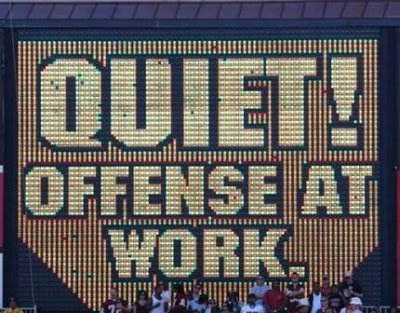 On the other hand, there are some bad franchises at the top of the list, headlined by Detroit, Houston, Kansas City and Cincinnati.
What might explain this? While there are far too many variables to make any definitive conclusions, I have two theories. First, teams that are traditionally good enjoy less of a home field advantage than those who are typically bad. In most recent seasons, New England, Pittsburgh and Indianapolis fans have been basically hoping to get through the season with limited injuries so they can enjoy the playoffs. It takes less to excite these fans.
As for the bad teams at the top, a bad team is more likely to be affected by hostile crowds on the road. Also, a "good" team should actually be towards the 55-60% mark and not higher, because a good team should be able to take advantage of the luxuries of home crowd noise, but not be rattled when on the road. Teams over 60% might lose predominately more on the road due to distractions and hostile crowds.
Does anyone else have a theory to explain the numbers?