I'm probably not the typical America's Cup fan. I've never been on a yacht. I don't vacation in Martha's Vineyard. I don't wear sweater vests. But for some reason, I love America's Cup. I've been following the series since 1992 (the last American victory). My plan is to provide some coverage of the Louis Vuitton Cup (to pick who challenges the defending champion, Alinghi) and the America's Cup itself from the perspective of the casual fan. I don't know most of the sailing terminology, I don't necessarily understand a lot of the strategy, so when I learn something interesting about the boats or the races, I'll let you know.

Today is the start of Louis Vuitton Act 13, essentially the final preseason game before the Louis Vuitton Cup. There are four teams expected to be competitive in this regatta and for the America's Cup.


Luna Rossa: One of the three Italian entries. That's all I know about Luna Rossa. Of the "Big Four," they're a distant fourth.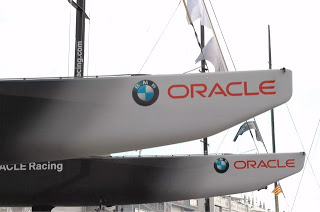 BMW Oracle: The lone American entry in the cup races, and the only chance for America to regain the trophy it held for 132 years (the longest winning streak ever in sports). If we're making predictions based on hull paint scheme, I don't like the Americans' chances.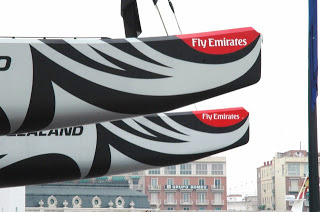 Emirates Team New Zealand:

New Zealand lost the cup in 2003 (the last America's Cup) after holding it since 1995. Definitely the best looking boat design, if that counts for anything.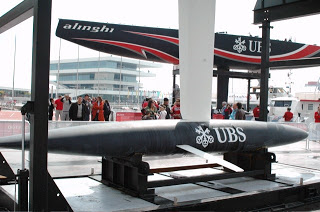 Alinghi:

The defending champs from Switzerland. A recurring theme in these blog entries will be my disbelief that a land locked country currently holds the America's Cup. At least when New Zealand or Australia won, you could respect it. Both of those countries have great sailing traditions (naturally, because they're freaking islands). But Switzerland?!?! Ugh, it's been four years and I'm still bitter. But because of the unique format of the America's Cup, Alinghi will challenge the winner of the Louis Vuitton Cup, so essentially they get a bye to the finals.

I'll follow up with a more detailed preview when the Louis Vuitton Cup starts.
For more detailed coverage, check out
Valencia Sailing's Act 13 Preview
.
Photo credit:
CupInfo