For much of the decade, the Ravens have been a fantasy football black hole. Sure, there were seasons where Jamal Lewis, Todd Heap or Matt Stover have been valuable starters, and the defense scores a lot of points, but in general no one was too concerned about the Ravens' bye week.
With Cam Cameron in his second season as offensive coordinator, the Ravens look primed to finally be a well-rounded team on both sides of the ball.
Full-Time Fantasy Starters
1) Joe Flacco - Many people fear a sophomore slump out of Flacco and Matt Ryan, but if the preseason is any indication Flacco is very comfortable running this offense now. In a continuation from last season, he has an excellent rapport with receiver Derrick Mason. Newcomer Kelley Washington (Bengals, Patriots) has already emerged as a frequent target. Todd Heap is finally healthy (for now). Ray Rice spent much of the offseason working on his receiving skills, and it appears he will be used often. His line tonight against Carolina in two-and-a-half quarters: 23 for 28, 247 yards and a TD. As a little added bonus, he also will take off and run effectively and he caught a pass last season.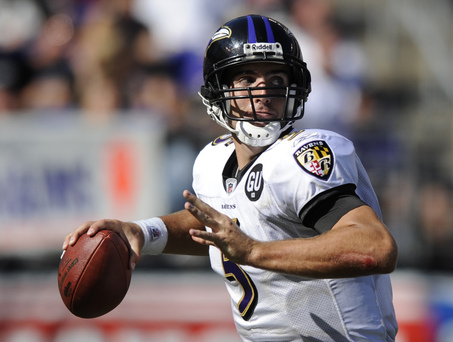 2) Ray Rice - The second year running back out of Rutgers has earned the starting spot over Willis McGahee. Both will split carries with LeRon McClain, especially as the season wears on. Rice is still a viable fantasy starting RB though because of his pass-catching skills. He should average about 20 carries a game and 100 yards, but I would not be surprised to see him average 5-7 catches and 50 yards receiving also. In a point-per-catch league, he might be second only to Westbrook. Touchdown vulturing is not a major concern from McGahee, as he and Rice have similar styles, but McClain will steal a few. Also, first-round pick Michael Oher has had little trouble making the move to RT. The Ravens young offensive line (Gaither, Yanda, Matt Birk, Grubbs and Oher) look to be among the league's best.
3) Derrick Mason - Derrick spent much of last season dealing with a very painful injured shoulder. Still, he topped 1000 yards and developed an excellent relationship with Flacco. Mason will not score many touchdowns, but he will rack up a lot of yards and 10-15 yard receptions. In a point-per-catch league, he is a great value to be had in the middle rounds. Some question his commitment after he retired briefly this offseason, but he seems to want to go out with something to keep his ring finger warm.
4) Ravens D/ST - This is pretty much a perennial stalwart. The Ravens D has scored twice this year, and this season has the markings of a defense that could threaten records for points scored. Ed Reed is back, but he has Dawan Landry healthy again in the secondary. The linebacking corps still features Ray Lewis, Terrell Suggs and Jarrett Jackson. Most importantly, DT Kelly Gregg is healthy again and DT Haloti Ngata is rounding into All-Pro form. The last thing any offense needs is for the Ravens to be able to get pressure only rushing four, but that appears to be the case this season. Matt Stover's departure has no impact on the ST portion of the scoring, but new KR/PRs Chris Carr and Lardarius Webb have been exciting thus far.
A Little Deeper....
5) Todd Heap - The Ravens added LJ Smith this season from the Eagles. Both Heap and LJ Smith are injury prone. If healthy, 600 yards and 6 TDs could be expected from Heap. Unfortunately, you may find yourself cursing his first quarter departure.
6) Willis McGahee - McGahee will probably only get 10 carries per game or so. If you are crunched, he'll still see some red zone touches.
7) Kelley Washington - This is my sleeper for the year. Flacco has gone to Washington frequently this preseason. Washington never made an impact in Cincinnati, but after spending last season with New England he perhaps has picked up a few tricks. With his height, Washington could emerge as a solid third fantasy WR as a #2 for the Ravens.
Not This Year
8) LeRon McClain - He's just too valuable as a blocker to be used as the Ravens used him last year. He'll see a lot of action late in games the Ravens are winning, but he won't be putting up 100 yards this year.
9) Demetrius Williams - I suspect Williams will have trouble finding the field regularly with the addition of Washington.
10) Mark Clayton - See above. Clayton will have a couple big statistical games this year, but nothing with sufficient regularity to justify a start.
Preseason Stats (First team has had four quarters)
Passing
- Flacco, 40 for 61, 470 yards, 1 TD, no INTS, 1 sack, no fumbles.
Rushing
- Rice, 23 for 83 yards, 1 TD
Mason, 10 for 146 yards
Rice, 12 for 108 yards
Todd Heap, 5 for 46 yards, 1 TD
D. Williams, 7 for 74 yards
Mark Clayton has not played (hamstring)