August 3, 2009
Albert Haynesworth disturbed Redskins fans by receiving another injection of "lubrication" in his left knee. Fortunately, his face-stomping right knee is still 100%.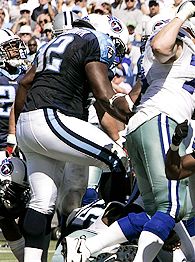 Contributed by J-Red at 8/03/2009 06:32:00 PM  

Tag That: Albert Haynesworth, Washington Redskins
Summer is here and there's never been a better time to try your hand at
online sports betting
. Place your bets on your favorite horse with
horse racing
or even try your luck with your favorite football team. Enjoying sport is just a click away!