As we approach the AFC Championship Game, I feel compelled to share what I hate Pittsburgh and its Steelers. I should mention that the Ravens losing an AFC Championship Game to Pittsburgh is probably tied with Maryland losing an NCAA Championship Game to Dook in terms of potential for personal devastation.


1) The Fans

I will preface this by saying that I do personally know a Steelers fan from Pittsburgh who is actually a decent human being. He left after high school and never looked back, now living in New Orleans.
People from Pittsburgh and the surrounding area (Morgantown, WV, excepted) are the biggest assholes on the face of the Earth. Al Qaeda and Taliban are a close second.
I have been to New York. I have been to Boston. I have been to Philadelphia. I LIVE near D.C. I know assholes. The people of Pittsburgh are the biggest assholes of them all. They're not as loud. They're somewhat less likely to physically threaten or attack you (mostly because they're too fat and slow for fighting). They just hate life and everyone else living it.
Of course, there isn't much to be happy about in Pittsburgh. The steelworkers either lost their jobs or moved to Baltimore. Now the city has little in the way of jobs, is cold, is dreary, is in the middle of nowhere, and is known for absolutely nothing other than the Steelers and Andy Warhol.
All that being said, Steelers fans from Pittsburgh aren't really all that bad. It isn't the city of Pittsburgh's fault, but they were really good at football in the 1970's. Hence, they have fans all over the country. Unfortunately, those fans have begun to reproduce. Now there is a second generation of bandwagon morons who only root for the Steelers because their Dad did. Much like men with small penises (more on Hines Ward below) , these fans must compensate for being regional traitors by being overly enthusiastic about their fandom.
2) Hines Ward
This morning on Baltimore's 98 Rock, porn star Jesse Jane was asked about her relationship with Hines Ward. She said something along the lines of "Let's just say he's more Korean than Black."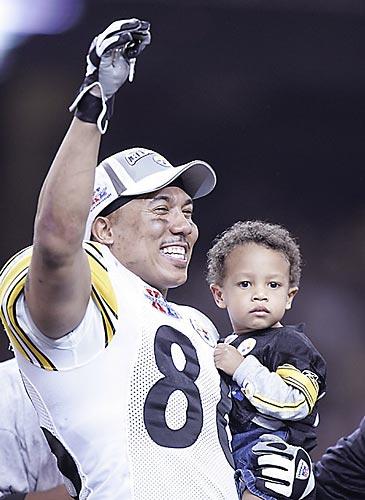 That made my week. I guess Hines and Santonio Holmes average each other out.
(Related note: When Santonio hurdled the last Charger on his return last week, I thought about his dong. I'm not happy about that. It's not even that his dong is that massive, it's just that it's really the only thing I know about the dude.)
I hate Hines Ward more than any professional athlete, including Paul O'Neill and Mike Dunleavy (definition of "professional athlete" is loose). He is in the top 15 wide receivers in the league, and he is a good blocker. He also is the king of the annoying bitchy little cheap shot at the end of a play. Nothing illegal usually, but just enough to provoke a costly response.
Of course, an above-average NFLer who plays a little dirty normally would not bother me (I am a Ravens fan, after all). That is, unless he grinned like an idiot ALL THE F-ING TIME.
Even that might not bother me, except the Steelers' offense isn't very sexy. Hines is the only player the announcers know anything about other than Ben Roethlisberger. As is announcer protocol, they parrot the same four facts about him over and over again.
3) The Terrible Towel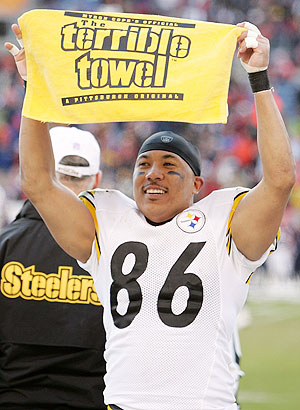 blahblahblahblahblahblah
My head just exploded.
Any other red-blooded sports fan in the nation would be mortified if his (or her) fan base was known for waving a urine-hued towel above their head. First of all, it's a distraction from what's happening on the field. Second, fan props are one slight step below "Quiet - Offense Is at Work" and "[Insert Team Color] Out". It indicates that someone in marketing recognizes that the fans are not capable of simply enjoying the product on the field.
The towel was introduced by radio voice Myron Cope in 1975 as a gimmick. Read the Wikipedia article. I'm not reprinting it here. It should have lasted one playoff season and then gone the way of the Rally Monkey, but frankly Pittsburgh had nothing else going for it.
Three Rivers Stadium was a dump, much like it's brethren in Filthadelphia, Cincinnati and St. Louis. I get that there was a time (the 1980's) that the Steelers sucked and the stadium sucked and a little something extra was needed to encourage fans to enjoy themselves. Sometimes The Wave, Iron City swill and YMCA just don't do it. Why they retain it in their nice new ketchup-sponsored stadium is beyond me. I know that towel must be an embarrassment to true Steeler fans on the level of the Cameron Crazies to a true Duke fan, but no one will ever admit it to me.
CONCLUSION
Cleveland : Pittsburgh :: Pittsburgh : Baltimore.
Discuss.