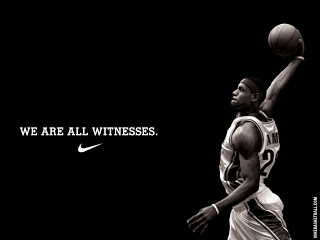 So I've actually been watching quite a bit of the NBA Finals this week. Until last night, they had been horribly disappointing. Sunday night was especially bad, when I checked the score after the Sopranos finale only to find the Spurs up by 20 in the first half.

That was all in the past, though, and last night offered the Cavs a chance to turn the series around. The game was close the whole way, until the Spurs jumped out to a 10 point lead with about 6 minutes left. The next 6 minutes contained some ugly basketball, but I was on the edge of my seat with every possession. The Spurs didn't score for almost 5 minutes, but the Cavs only clawed their way back into the game slowly.

With a few minutes left, you could see Lebron start to really take over his team. He had a few unlucky misses, including a finger roll that looked like it was going to drop in. He also didn't get much help from Varejao, who blew the most important possession of the game (Cavs down 2 with about a minute left) by taking a pass from Lebron and trying a crazy spin move into a scoop shot instead of just completing the give-and-go and letting Lebron do his thing.

The Cavs had another chance to tie the game down by 3 with 5 seconds left. Lebron caught the inbound pass a few feet outside the 3-point line and Bowen grabbed him in an attempt to foul him before the shot. In a heads up play, Lebron immediately launched the three-pointer, figuring that he would get 3 shots instead of 2. The shot almost went in, but no foul was called. On the replay, it was obvious that Bowen was trying to foul intentionally, and that Lebron clearly should have gotten 3 shots to tie the game. Now, instead of getting a chance to see Lebron shooting high-pressure foul shots to force overtime and potentially turn the series around, we have a 3-0 series that is essentially over.

A few random thoughts from the game:

I was very impressed with Ilgauskas, he seems like a rich man's Todd McCulough or Arvydas Sabonis. He reminds me a lot of Rik Smits. I know, now I'm just listing white centers with a 10-foot jump shot.


The announcers were a bit annoying, but Jeff Van Gundy absolutely nailed a tough call on a foul. It was a "clear path" foul, and he called it immediately, and then pointed out that the Cavs were having Gibson take the shots instead of Lebron (the player fouled). He got the ruling correct about 2 minutes before the refs figured out what was going on. That's the kind of rulebook knowledge I want from an announcer.