Ball State, the school formerly known only as David Letterman's alma mater, is dealing with a little NCAA scrutiny right now. Head Coach Ronny Thompson (son of John Thompson II (the Ewing one)) "resigned" on July 13, two days after the NCAA informed the school that an investigation had uncovered rules violations, specifically that Thompson and his staff attended "voluntary" (haha) offseason workouts.

Ball State University is located in Muncie, IN, only 65 miles from the NCAA headquarters in Indianapolis. It's probably not the best place for the coach to don his best Bobby Valentine groucho mask and "cheer" encouraging words like "flex cut 34" from the corner of the gym during voluntary workouts.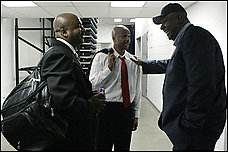 blahblahblJohn Thompson and JTIII try to explain to Ronny that Georgetown and
sssssssssssssssssssssssjhjsssssss

Princeton aren't THAT white
But that's not the story. Coach Thompson has taken a parting shot on his way out the door.
He is alleging that a racist environment at Ball State
made it very difficult for him to do his job. Ball State has pledged a full investigation...into the allegations of racism...made by a former head coach who left in shame. I bet that report will be scathing and will really illuminate every dark corner and every racist subculture at Ball State. Thanks for the sanctions, and we'll go ahead and paint ourselves bigoted at the same time.
Here are the facts you need to know about Ball State University.
According to Peterson's
, Ball State is 90% white and 7% black. The mid-50 percentile SAT score is 930-1130, lower than that of Towson University (which is a fine school ladies of Towson, a damn fine school). Add that Indiana was (and is) one of the hotbeds of Ku Klux Klan activities, and you can imagine that Ronny might be telling the truth. (Get your official KKK robes
HERE
, [NOT A GOOD LINK FOR WORK] but Indiana residents have to add 5% sales tax.)
Jason Whitlock, Kansas City Star sports columnist, is a Ball State alumnus and former student athlete. We know from his ESPN/Scoop Jackson "incident" that he is no stranger to blogs. We also know from his strong comments about the Don Imus/Rutgers incident that Whitlock, an African-American, is not one to shy from racial controversy. It will be interesting to see if he experienced the same bigotry alleged by Coach Thompson.