Following Florida State's 24-21 loss to up-and-coming-but-still-not-overly-talented Wake Forest last night, it seems like a good time to take note of just how far FSU has fallen since joining the ACC in 1992.


ACC Losses by Year
1992 - None
1993 - None
1994 - None
1995 - Virginia (Shared ACC Championship, Orange Bowl)
1996 - None
1997 - None
1998 - NC State (Shared ACC Championship, Orange Bowl)
1999 - None
2000 - None
2001 - North Carolina, NC State
2002 - NC State
2003 - Clemson
2004 - Miami, Maryland
2005 - Virginia, NC State, Clemson
2006 - Clemson, NC State, Boston College, Maryland, Wake Forest
2007 - Clemson, Wake (still games against Miami, Duke, #4 BC, #12 VT, and Maryland)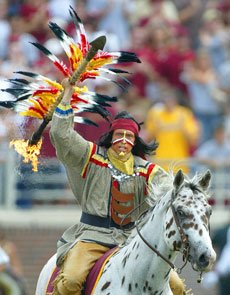 Note also that Florida State played in either the Orange, Sugar, or Fiesta Bowl in every year since 1992 except 2001 (Gator v. VT), 2004 (Gator v. WVU), and 2006 (Emerald v. UCLA).
It is impossible to overstate how dominant Florida State was for the first 9 years of ACC play. As a Maryland fan, there was never any consideration that you would beat Florida State. You just wanted to win enough other games to get the Gator Bowl bid. It's tough to blame conference expansion, as they've only lost once to Miami and once to BC thus far.
What's more troubling from an FSU fan's perspective is not just that they're losing ACC games, but that they're losing them to teams in the middle of the conference, like NC State, Maryland, Virginia, and UNC. At least Clemson, BC and Miami are established football schools. The middle ACC teams, at least until 2000, had lost before they ever took the field. Just the FSU uniform put the opponent in a 21-0 hole.
I really like Bobby Bowden, but I don't know that he has the energy to keep up with Miami, Florida, and now South Florida and Central Florida too.
Ok, maybe recruiting isn't THAT hard. God I love Jenn Sterger.