J-Red has been bugging me to finally make my pick for the East Coast Bias college football mascot. I don't watch enough NCAA football to have a lot of options, but based on the rules (cool name, fairly decent player), my choice was easy:


Isiah "Juice" Williams, QB Illinois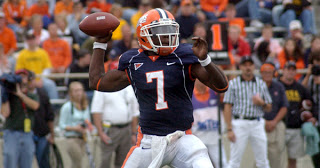 Anyone who continues to use the nickname "Juice" after Orenthal tainted it is OK in my book. Maybe Juice can become both the anti-Vick and the anti-OJ at the same time. Plus, he took down Ohio State, which makes me like him even more. He's only a sophomore, so we have another two seasons to watch him in college. I'll be rooting for him.
Previous Nominees:
Jehuu Caulcrick
(J-Red)
Kaipo-Noa Kaheaku-Enhada
(Russell)