The Terps are now bowl-eligible, coming off an inspiring beatdown of NC State today. It really looked like the guys were playing to impress a bowl committee somewhere.

This is off-topic, but I just wanted to say how beautiful San Francisco is this time of year. I've never been able to justify going, unfortunately, but I can think of nothing better than spending a week in late December in the City by the Bay. I'd also like to see the AT&T Park there, which I hear is beautiful and can seat large numbers of relatively well-heeled Maryland alumni. I also considered going to Boise or Charlotte, but I've been to the NCAA Regionals and ACC Tournament in those cities, and I just don't feel the need to get back right away.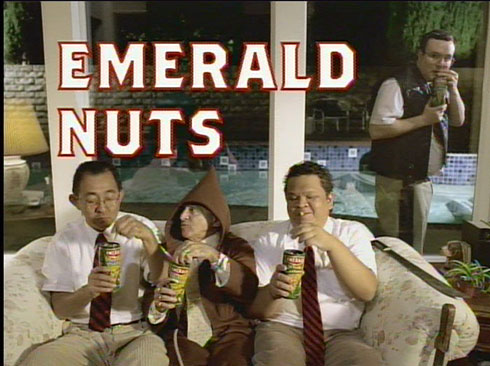 Excuse me if I am slow in typing this post, but I am enjoying some delicious Emerald almonds right now. Nothing goes better with a Terps victory than Emerald Nuts. The new ergonomic Emerald containers are great for snacking on the go, and fit perfectly in both my car's cupholders and my hands. This holiday season, when I want the best in quality nuts, I reach for Emerald Nuts.

Speaking of nuts, they are great for vegetarians. They are rich in protein and healthy fats, providing great nutritional benefits. In 1996, the Iowa Women's Healthy Study found that women who ate nuts >4 times a week were 40% less likely to die of heart disease. They are rich in fiber, phytonutrients and antioxidants such as Vitamin E and selenium. Nuts are also high in plant sterols and fat - but mostly monounsaturated and polyunsaturated fats (omega 3 - the good fats) which have all been shown to lower LDL cholesterol.