It's been a rough couple of years for American men's tennis, but that didn't matter today, as James Blake advanced to the Olympic semifinals after defeating Roger Federer in straight sets.

Blake has shown promise over his career and is currently ranked #7 in the world, but he has never advanced beyond the quarterfinals in a major. He's only 28, so there is still hope that he can continue to improve and become the face of American tennis, taking that title away from a slumping Andy Roddick.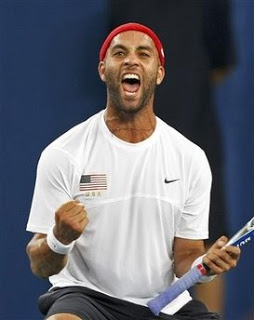 Federer has had a bad year so far, losing in the French Open to Rafa Nadal (again) and losing in his bid for a 6th straight Wimbledon title, also to Nadal. It has been clear this year that Federer is human, but it wasn't clear that anyone except Nadal could beat him. James Blake had faced Federer 8 times previously and only won a single set total. His win against Federer should vault him into the discussion of the top men's players in the world, along with Federer, Nadal, and Novak Djokovic.