Who? You know, the only American woman to ever win a gymnastics all-around gold medal in a fully attended Olympic games?


During the women's gymnastics qualifiers last night, one of the announcers said that Shawn Johnson was trying to become an iconic American gymnast like Mary Lou Retton and Kerri Strug. I turned to my wife and said (while only feeling a little gay): "What about that girl who won the all-around in Athens?" and then about 15 minutes later, "Carly Patterson, that was her name!" Later on in the broadcast, the announcers did mention Patterson in passing, saying that she had inspired this year's gymnasts to do their best, or some crap like that.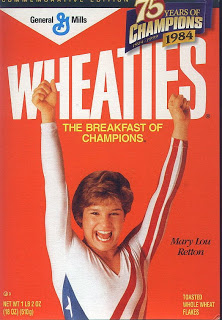 All of which left me wondering what the hell happened to this girl? I know gymnasts have a short shelf life, but she was young in 2004 (I looked it up, she's only 20 now). Even if she didn't make the team this year, I expected to hear some discussion of how she got too old and was put out to stud or something. Instead, she got mentioned only slightly more than Dominique Dawes.
Wikipedia to the
rescue
. Apparently she discovered that she had back problems in 2006 and was forced to retire. OK, that sucks, but it would have been nice to hear something about it. No big deal. She was also on some show called
Celebrity Duets
where she and other B-list celebrities sang duets with real singers. Carly didn't fare too well, and she was voted out third. Alfonso Ribeiro was the winner of the show.
I guess there's not too much shame in losing a singing contest to Carlton Banks. Wait, yes there is. That would be enough to make me never want to sing in public again. Apparently it had the opposite effect on Carly, as she parlayed her singing competition loss to Ribeiro (and Lucy Lawless, Cheech Marin, and others) into a singing contract with Joe Simpson. WHAT?
Patterson's contract with Simpson expired without her releasing an album, but don't worry, she's signed with an indie label and has a new song out. Ummm ...
it's not very good
. Her album was supposed to be released last week, but it's not on Amazon and her record label's website
leaves something to be desired
(it's essentially a big link that says "email us"). That doesn't bode well for Carly's music career.
So maybe the announcers avoided mentioning her too much last night to save her the embarrassment of publicizing her failing music career? At least she's always got that gold medal.