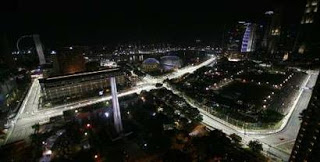 One of my biggest complaints about Formula 1 is its lack of imagination. F1 seems reluctant to rock the boat or do anything that could jeopardize the riches it brings in every year. Of course, by refusing to innovate, F1 looks old and conservative while NASCAR continually improves the fan experience.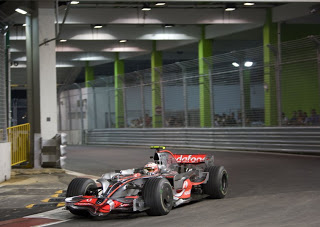 This weekend F1 ran its first ever night race on a street circuit in Singapore. Casual fans would be forgiven for wondering why this race didn't happen 10 years ago. Of course a night race is exciting. Of course street circuits look a lot cooler on television than permanent tracks. It's only F1's conservatism that made it wait until 2008 to run a night race.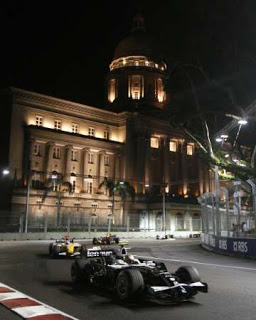 By all accounts, the Singapore circuit was a phenomenal success. Worries about the lighting, rain, and the roughness of the track were shown to be overblown. The track was well-lit, the rain held off, and the bumps on the track just made the race more interesting. Hopefully F1 can build on this success to innovate even more, instead of just adding more races on Herman Tilke-designed tracks in third world countries.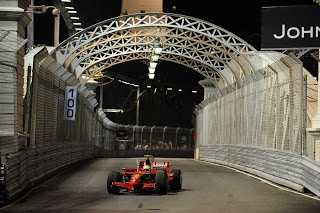 Did I say how awesome the race looked under the lights? Visually, this was the coolest race in F1, even better than Monaco. In terms of the uniqueness, challenges to the drivers and the excitement of the race, it definitely earned a place near the top. I think Singapore will join Monaco as one of the signature races on the F1 calendar.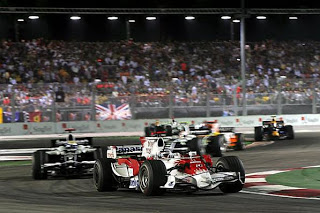 Oh yeah, Fernando Alonso (my favorite driver) won the race. Alonso has had a rough 2008 back with Renault, but a win makes things a lot better. He was frustrated with the car after qualifying 15th due to a mechanical failure, but the car looked very quick during the race. A safety car period at just the right time let him take the lead, and he was plenty quick enough to hold on for the win. F1 Fanatic has a great recap of the race.

Lewis Hamilton took a commanding 7 point lead in the drivers' championship, but with 3 races left to go, anything could happen. Unfortunately, two of my least favorite drivers (Hamilton and Felipe Massa) look to be the only two serious contenders for the title.

Today's race was a great sign for the future of Formula 1.