So let me say, I had every sports fans', and in particular, every football fans' dream weekend. And I can say this despite both of my fantasy teams going to shit (way to have Lavarenues Coles and Muhsin Muhammad on the bench dumbass... your bench damn near outscored the rest of your entire team).

But I owe this weekend to the QBs of both of my teams and their ever-increasing poise, maturity, and decision-making skills: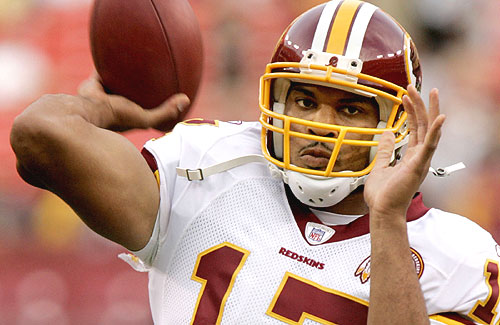 SUNDAY:
Jason Campbell pockets straight (a WTEM Portis-Mitchell reference for those not in the loop). This kid, who once held on to the ball for too long, who once constantly threw into double and triple coverage on his first read, and who struggled to gain an understanding of Al Saunders' offense, is now staying in the pocket like a man, going to his third and fourth reads, and absorbing huge hits.

For those of us who have been following the Redskins, you can actually see this kid just growing as a QB each week that goes by. It truly is amazing. The Giants game was a disaster. It was a debacle. It makes me wonder if maybe Jim Zorn should've worked his offense a little harder in the preseason because we've seen the splendor of what has resulted in just three short weeks after that.

Today, Campbell goes into Big D, up against a stellar defensive line with a generally overmatched offensive line, and leads the Redskins to a victory over the goddamn fucking sons of bitches Dallas Cowboys.

It's alright Cowboy fan... you'll beat us next year at Texas Stadium. Oh, wait... guess not. Well, you still have the tiebreaker over us. Oh... not that either. I hope the entire team went out with scissors and clipped some of the blue "turf" star from midfield as a trophy. There is a whole lot of glory that can be passed around and a whole lot of players and coaches who can gain acclaim for what they did today. But at the end of the day, Campbell is now, truly, THE quarterback of the Washington Redskins. And not a single turnover all year long.


SATURDAY:
Just as 'Skins fans have seen Campbell grow over the past three weeks, Terp fans have seen Chris Turner show the same kind of increasing confidence and grasp of an offense over that same span. Turner led the Terps into undoubtedly the most hostile atmosphere into the ACC, and brought them back from a sizeable halftime deficit to beat the ranked Clemson Tigers, a division foe. On the same day Wake lost to a much-maligned Navy team at home, Maryland showed that they too are very much in the hunt for the ACC title game.
Turner has evolved since being thrust back into the starting position against Middle Tennessee. His first game in 2008 as a starter for the Terps resembled much of Campbell's first game in 2008 as a starter for the 'Skins. Unable to lead the offense into a rhythm, beset by confusion in communications with his own players and coaches.
Chris has gone to work. He's shown us now glimpses of the quarterback he can be. He, like Campbell, now shows poise in the pocket, makes all of his reads even if it means taking a huge hit, and demonstrates tremendous situational awareness.
He's led the team to victories in two out of three weeks against ranked opponents. He's led the Terps back to the brink of the Top 25. He should go into Charlottesville next weekend and the Terps should be able to hang 50 on the tie-wearing pansy-ass Wahoos if he plays anything like he's played the last three weeks.
Again, much of the credit and the acclaim for the win against Clemson can go to other Terp players and coaches. But most would agree that the primary reason for the upset in Death Valley was the maturation of #10, QB1, Maryland Terrapins.